You can do a lot of different and interesting things in Dallas with respect to history, architecture and museums.
If you are into the history behind the JFK assassination this is obviously the place to be, but be critical to how you approach it. It is an absolute must going to Dealey Plaza to see the spot where Zapruda filmed the assassination. Just behind the fence is where the 4th and maybe a 5th shot was fired. The corner of Elm Street and Houston Street is where the Kennedy Motorcade turned down into Dealey Plaza where he was shot.
At Dealey Plaza, depending on the day, there are several historians, eye witnesses or former journalists who will tell their view on what happened on that fateful day. It can be Robert J. Groden who's an author and was an advisor on Oliver Stone's film "JFK" or a retired journalist who's got a different film, to the one Zapruda made, by a lady taken from the Dallas County Courthouse or now known as the Old Red Museum building which was shown on the local Fox News in 1995. This film shows the shots from behind the fence at the Grassy Knoll.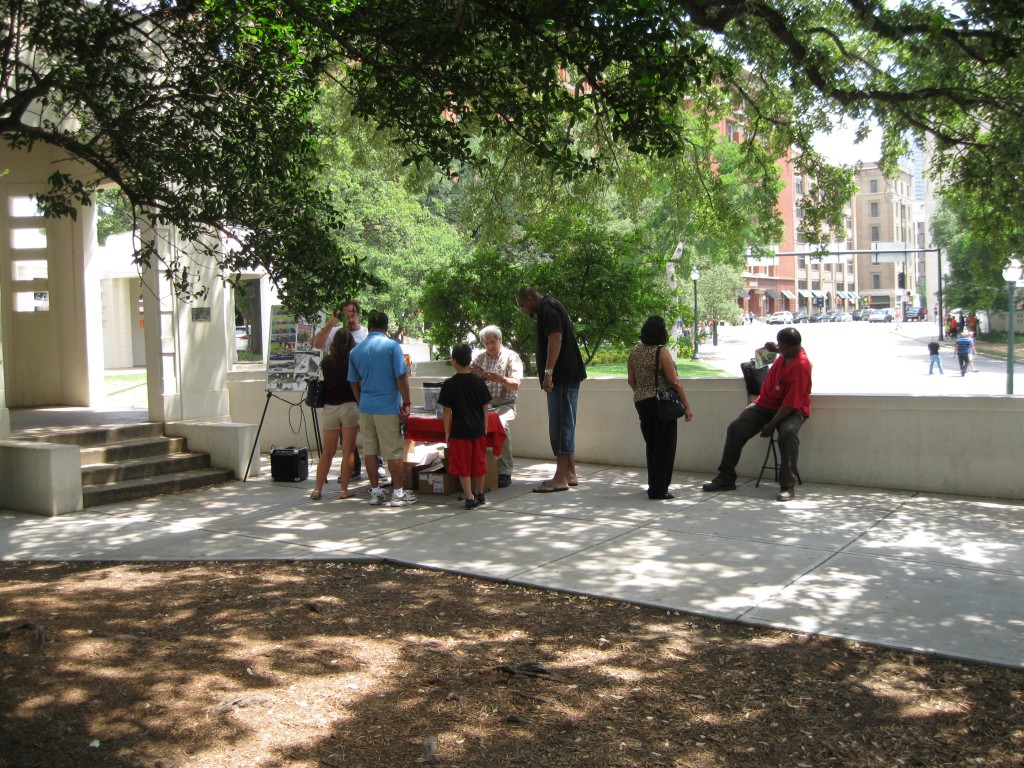 Doing the Sixth Floor Museum is very interesting and you get some great information. Robert J. Groden called the museum a propaganda machine. Still the museum (which formerly was the Texas School Book Depository) is definitely worth a visit as it will give you a lot of history behind the assassination, JFK's visit to Dallas and what happened on 22 November 1963. There are displays of various artifacts, the report by the Government that followed, historic film and photos are shown. Again you just have to be critical about what you hear and read. Not everything is necessarily true.
You are not allowed to take photos at the main exhibition at the Sixth Floor Museum but you can go to the Seventh Floor and take photos out of the window just a floor above where the assassin shot from which is pretty cool. So you get a pretty similar view to what he had back in the day. On the floor just below they have reconstructed that particular corner of the floor to what it looked like on 22 November 1963 when JFK was shot.
You can also do the JFK Assassination and City Tour via Dallas City Tour. It is ok but they won't tell the whole "truth". They will say that there were only three shots, talking as if Oswald was the killer without questioning it, also saying Oswald shot the policeman Tibbett. As per Robert J. Groden they have to say this to get a license to operate. The retired journalist from Fox said that this is probably true. On the tour you will also see the Texas Theatre where Oswald was arrested, the boarding room where he lived and the house where the photo was taken of Oswald allegedly holding the shotgun they claim he shot JFK with. Oswald claimed that this picture was doctored. Furthermore you will see the entrance to the Dallas Police Headquarters. Just behind the gate is where Jack Ruby shot Lee Harvey Oswald.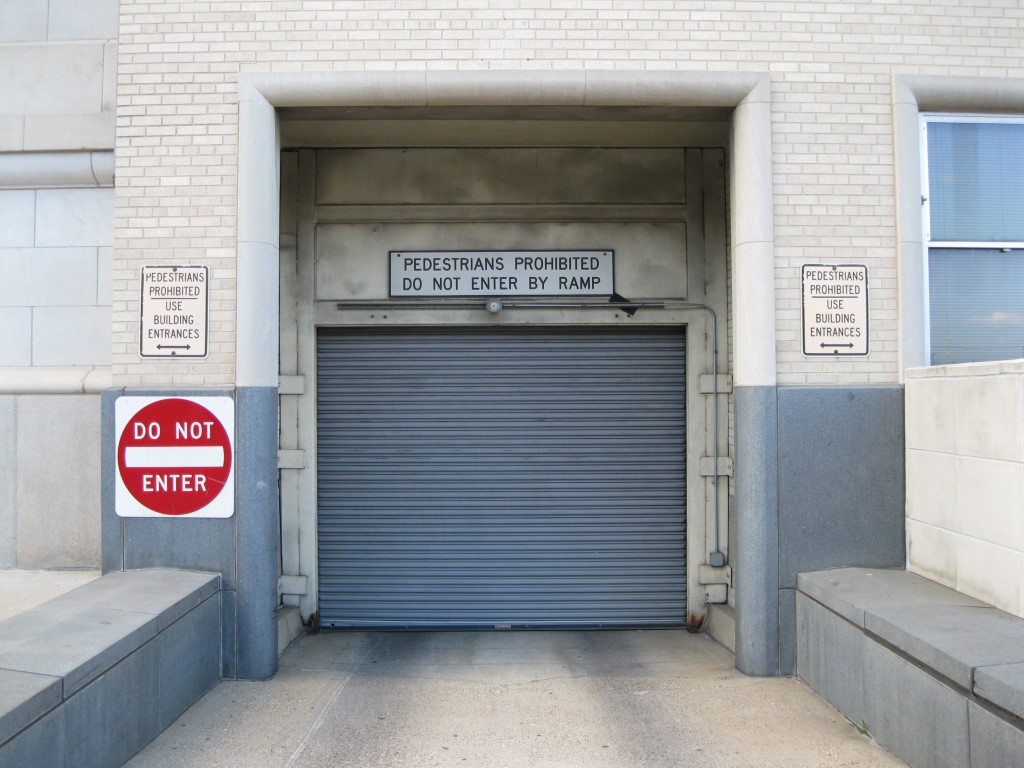 At 100 South Houston Street the beautiful Old Red Museum formerly known as the Dallas County Courthouse is located. It is a Richardsonian Romanesque building and was built in 1892.
At the Reunion Tower they have a short documentary about the assassination too including the last surviving policeman on the JFK Motorcade. They told the same untruth about the three shots and said that Oswald was the sole killer. The 70's commission determined that there were four shots and one came from the Grassy Knoll. Only the Warren Commission said three shots. The report from the Warren Commission was released in 1964, but it is not possible to get the files or the working papers from this Commission. They are withheld for a minimum of 75 years. This was decide by President Lyndon B. Johnson. It will not be release at the earliest by 2039.
The Reunion Tower based at 300 Reunion Boulevard is definitely worth a visit. It is 171 metres tall (561 ft) and has three levels. On the first level the observation deck called GeO-Deck is located from which there is a 360 degree both indoor and outdoor view of Dallas and the surrounding areas. You can see all the way to Forth Worth. When being outdoors, the viewing area luckily is only fenced off and has no glass partition like so many other observation decks around the world, so you are able to get some great views. Furthermore there are interactive screens with short historic films about Dallas. On the second level the Could Nine Restaurant is housed and on the third level the restaurant Five-Sixty by Wolfgang Puck is based.
Fountain Place is one of the most interesting skyscrapers in Dallas. The architectural style is late-modernism, it's 220 metres tall (720 ft), has 63 floors and is located on 1445 Ross Avenue in Downtown. The original plan was to build twin towers but with the collapse of the Texas oil, real estate and banking industry in the 1980's the project was never completed. Instead a single building was constructed and it's known for its outstanding architecture, being a class tower, with slanted sides which makes the look change when viewed from all sorts of angles.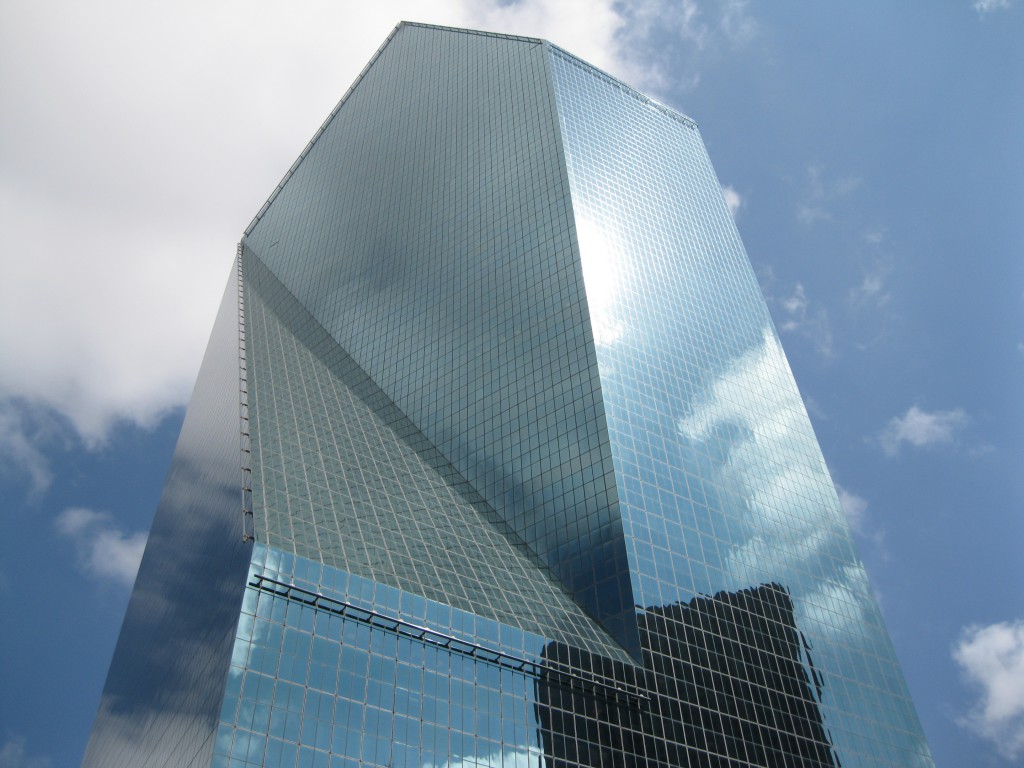 Another beautiful skyscraper is the tallest in town and the 3rd tallest in Texas which is the Bank of America Plaza. It's 280.7 metres tall (921 ft), has 72 storeys and is based on 901 Main Street in the Main Street District in Downtown. This is also a late-modernist glass tower which has a really cool serrated design. It's got several notched corners which stop at different heights. This actually gives the structure a bit of a modern Art Deco feel.
The Chase Tower on 2200 Ross Avenue in the City Center District in Downtown is 225 metres tall (738 ft), has 55 storeys and is postmodern skyscraper. The architecture really stands out as it has a curved roof and a 7-story hole in the center. It has therefore been dubbed the "Keyhole Building".
The Comerica Bank tower is also postmodern building in the Main Street District at 1717 Main Street. It's 240 metres tall (787 ft) and has 60 storeys. The barrel vault design in several areas of the structure and the setbacks in the top part of the building are prominent.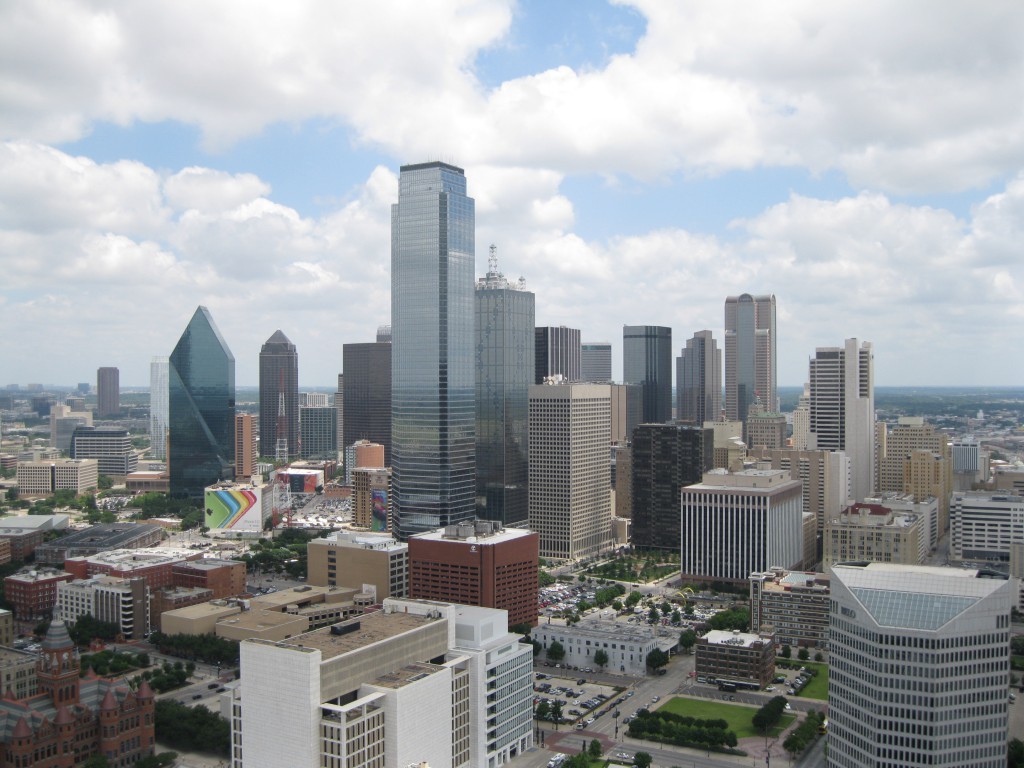 Stone Street Gardens is nice little oasis in Downtown with cosy restaurants and cafés connecting Elm Steet and Main Street. It's a worth have a stroll through.
The John Fitzgerald Kennedy Memorial is located at 646 Main Street, between Main Street and Commerce Street, and between Market Street and Houston Street in Downtown not too far from Dealey Plaza. It's a simple open roofed memorial with concrete walls. It's pretty basic but if you're in town check it out because of the historic significance
The Main Street Garden Park at 1900 Main Street is a nice little breathing space of the city. A funny little feature is the big yellow neon sign saying "PARK" which was originally a sign from a parking garage, so the first four letters of this sign was used for this park.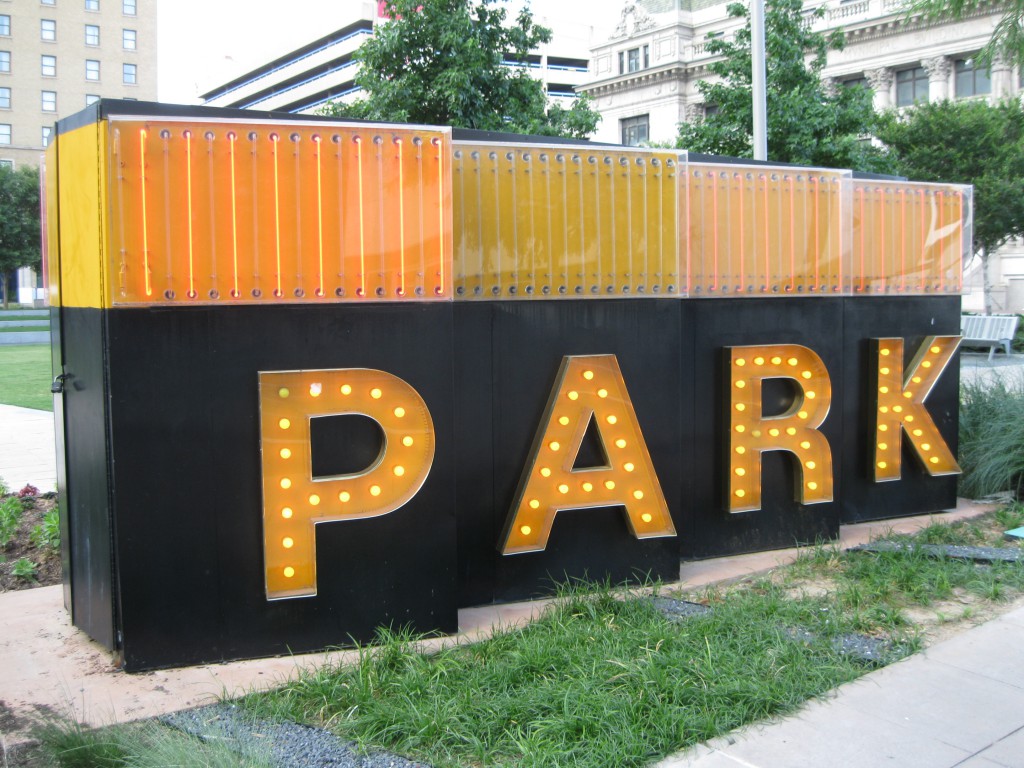 All over Downtown Dallas big signs with a "B", a space and a "G" are placed. If you stand in the middle where the space is, you will be the "I", and it will say "BIG" because as they say – everything is big in Dallas. It's a good photo opportunity where you can get your mates to take a photo you standing in the middle.
Klyde Warren Park is also a really nice breathing space in Downtown. An interesting thing about this park is that it is based on top of a freeway, so right below the park the Woodall Rodgers Freeway runs connecting Downtown with Uptown. It's a public park but is privately funded by the Woodall Rodgers Park Foundation and actually has opening hours from 06:00 til 23:00. There are green areas, benches for people to have a chill and so-called reading & games room by the The Dallas Morning News where different magazines and papers can be read. During the day there will be a lot of different stands outside the park where food is sold.
There is a lot of construction work going on in Downtown Dallas and a lot of it is due to businessman and developer Ross Perot, Jr. who is said to want to create a similar feel to Manhattan.
The House of Blues is always a delight. It's based on 2200 N Lamar Street in Downtown. It's always cosy to have a good craft beer and a meal here. The Jambalaya is a very good option for lunch or dinner. Furthermore they have several venues for concerts and a nice little merchandise shop if you fancy that.
The Perot Museum of Nature and Science located at Victory Park at 2201 N Field Street in the Arts District which is an awesome museum and is highly recommended. You can easily spend three hours here due to the many fascinating exhibitions.
First of all the building is quite interesting too. Most of the façade is made of precast concrete, is 51.82 metres tall (170 ft) and has got five levels. The museum has several permanent exhibits. A very interesting one is called "Expanding the Universe" which is based on level 4. It's  about the creation of the universe and the Big Bang Theory which is shown via high-definition screens and different displays. There are some cool details such as benches with quotes like "Each year, the moon moves about 4 centimeters away from the earth".
On level 3 in Earth's Hall there's an earthquake simulator which is really cool. It's basically a platform which you can stand on and try three different levels of earthquake magnitudes from minor (based on the earthquake in Karnes Country, Texas in October 2011) to major (based on the earthquake in Los Angeles County, California in January 1994) to extreme which  is "similated for fun" as it says. Good stuff!
There are more great exhibitions such as "Discovering Life" and "T. Boone Pickens Life Then and Now" which is about dinosaurs and the evolution of on Earth over 4 billion years.
A really cool place to go for a meal is Twisted Root Burger Co. at 2615 Commerce Street in the Deep Ellum neighbourhood. At this restaurant you can build your own burger in whichever way you want. A funny little detail is that after you have placed your order of the burger you have "built", you will get a piece of paper with a name of a celebrity or a movie character which they will call out when your order is ready. It can be something silly like "Stifler's Mom" or "Rachel Green". Furthermore they will have humorous signs in the restaurant such as a picture of Samuel L. Jackson from "Pulp Fiction" with the caption "That Is One Tasty Burger", a sign at the bin saying "Yo Mama Don't Work Here. Clean Up After Yourself" or the special on the menu "The Fat Elvis Shake" which is "15 ounces (instead of the usual 12) of vanilla custard with Dude, Sweet Chocolate's 'Tub of Love Spread' (dark chocolate, banana & peanut butter), bananas, roasted peanuts and pieces of bacon". Definitely sounds like something up the King's alley! Outside on the window it says "It's A Slap-Yo-Mama Good Burger". Nice laid back atmosphere.
Deep Ellum is known for a having a lot of options with regard to arts and entertainment. Back in the 1920 the neighbourhood was actually the cradle for jazz and blues. Musicians like Robert Johnson and Blind Lemon Jefferson played in the clubs in this area.