Glacier National Park is based in northern part of Montana in the United States on the border with Alberta and British Columbia in Canada. It is also the neighbour of Waterton Lakes National park in Alberta and you can cross between the two without showing your passport. Collectively it's known as the Waterton-Glacier International Peace Park, created in 1932. Glacier National Park was established in 1911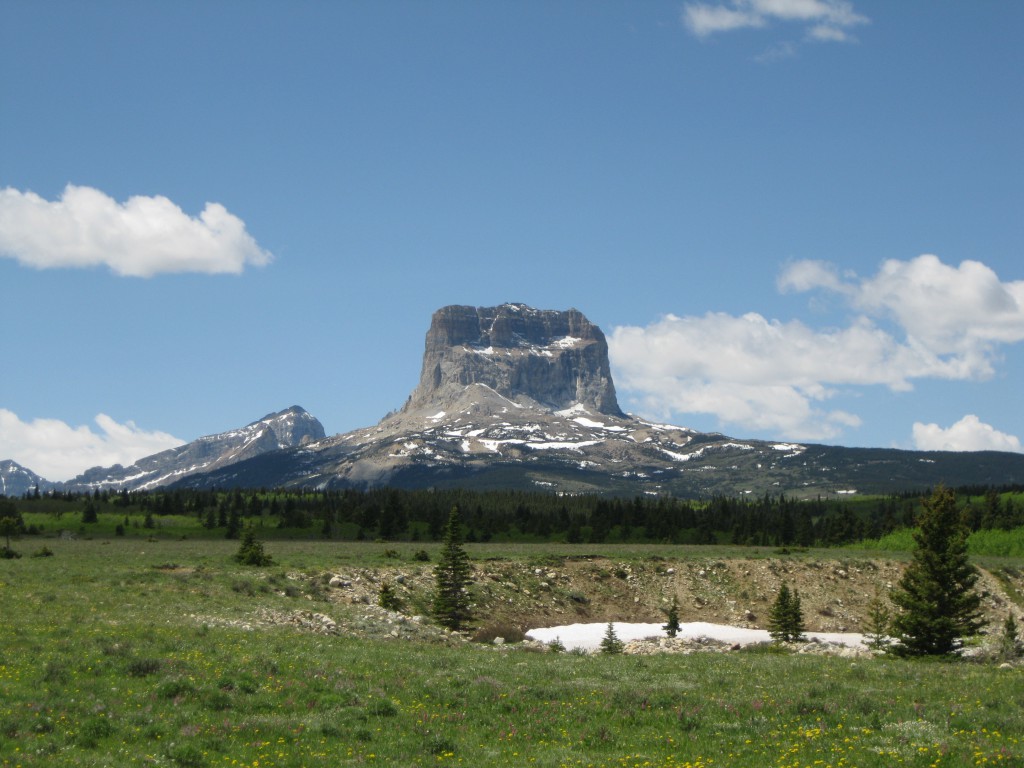 The park includes two mountain ranges, called Livingston and Lewis, which are sub-ranges of the Rocky Mountains. There are more than 130 named lakes, more than a 1,000 species of plants and hundreds of different species of animals. The mountains and valleys are a result of three geological stages. First sedimentation or deposition of rock, then uplift of the mountains and lastly the reason for why the name "Glacier" was chosen. This was glaciation which carved its way through the area creating six massive peaks. All this happened over a period of 1.6 billion years. In Waterton-Glacier you will find some of the oldest and best preserved sedimentary rock in North America.
The closest major airport to Glacier National Park is Kalispell International Airport. The two major cities in the area are Kalispell and Whitefish. Both are more or less equally within the same distance to the international airport. Some Kalispell Hotels may say they are located close to the airport. This is not the international airport but Kalispell City Airport.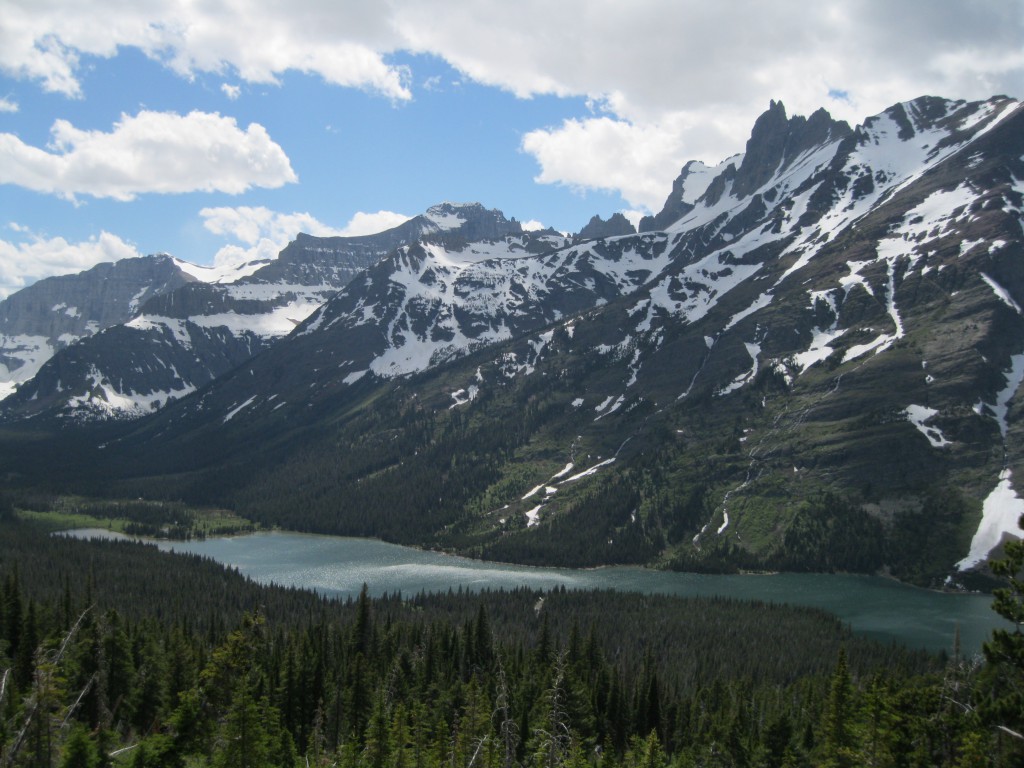 The most happening town in the area is Whitefish. There are several shops and restaurants, it's a cosy little town to have a stroll around in and you can have a nice night out on the town as well. People have been living in the area for a long time mostly engaged in the logging industry, but in 1901 the Great Northern Railway announced that they would build through what is now Whitefish. In 1904 the railroad officially arrived after they spent more than three years clearing for a town site. This sparked the further development of the town. So therefore the early residents worked for the railroad or the logging industry.
The Great Northern Brewing Company, located at 2 Central Ave, is definitely worth a visit. Here they make some great beer. Especially the Going to the Sun IPA is really good which contains Cascade, Centennial and Columbus hops. The brewery open in 1995 and was established by Minott Wessinger, who's a fifth generation brewer. The building was designed by architect Joe Escherick and is the tallest building in Whitefish with its three storeys. The beers are made by an old tradition called "gravity-flow".
Kalispell is located 50 km (31 miles) from Glacier National Park. The Kalispell Townsite was established by business man Charles Edward Conrad and three men and by 1891 lots began selling.  It was officially incorporated as a city the year after. It is the largest city in Northwest Montana and is the commercial centre of Flathead County.
Staying in Whitefish as opposed to Kalispell is recommended as there is much more to do.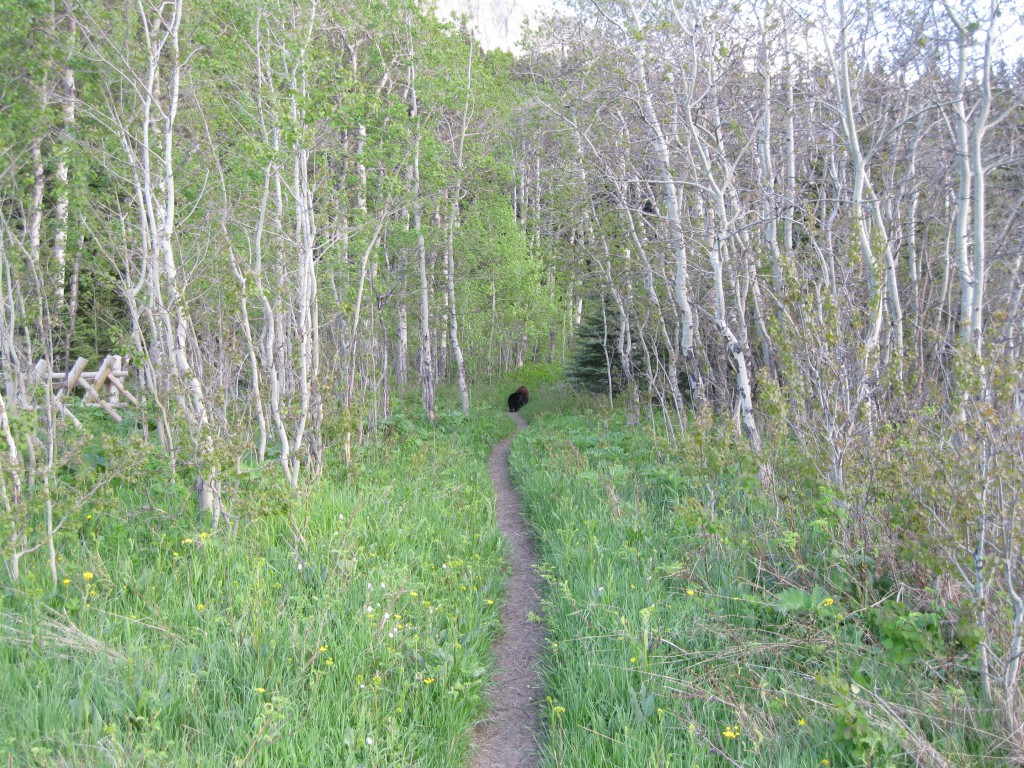 Glacier National Park is big so getting from Kalispell, Whitefish or even West Glacier to certain areas in the park can take a couple of hours drive by car. The park borders with the Blackfeet Nation to the east where you have a lot of beautiful scenery too.
If you are into hiking a great way of seeing the park is going all the way up to the Canadian border and go on the Belly River Trail. There's some absolutely amazing scenery on this trail which more or less follows the Belly River.
On the way to the Belly River Trail there will be plenty of opportunities for amazing views and photo stops. Chief Mountain is one of the highlights which can also been seen on several occasions on the Belly River Trail. This is one of the most prominent peaks of the park with an elevation of 2,770 metres (9,080 ft). Half of it is in the park and half is in the Blackfeet Nation. The mountain is known as a klippe structure which means that it has been moved tectonically from its original place through thrust faulting and erosion. Depending on which road you take there will be viewpoints of stunning areas like Marias Pass/the Continental Divide, Two Medicine and Cut Bank Valley.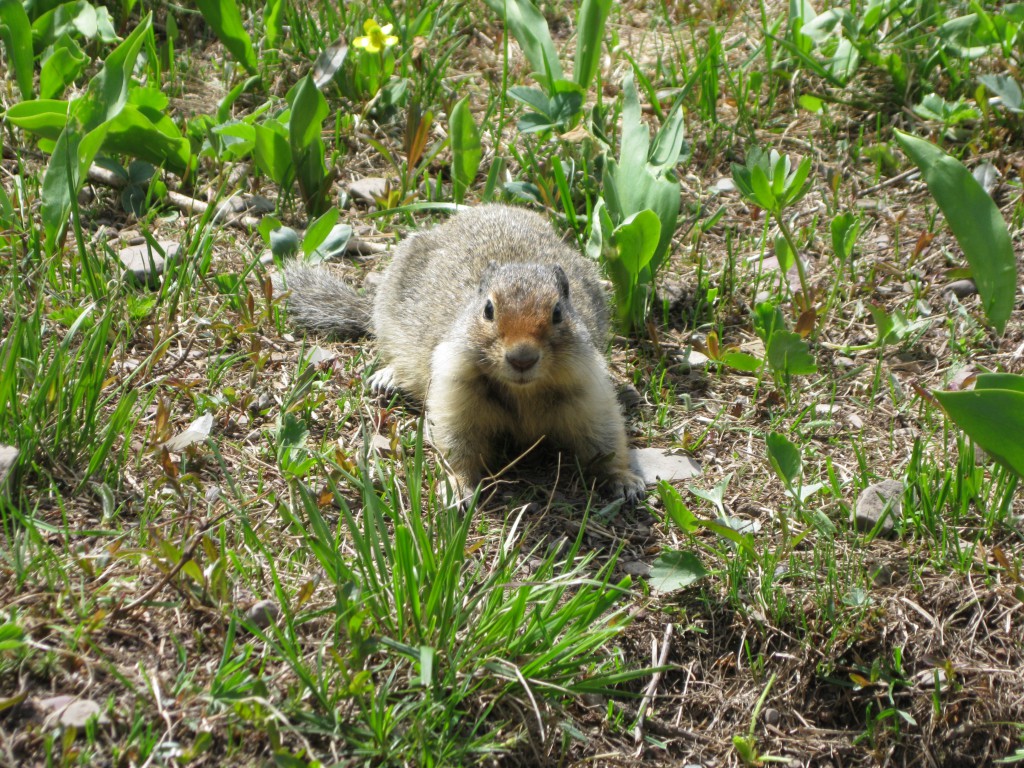 From the trailhead of the Belly River Trail it is about 9.6 km (6 miles) to Gable Creek where there is a campsite. From the trailhead it is about 9.8 km (6.1 miles) down to the Belly River Ranger Station, 14 km (8.7 miles) to Cosley Lake and 15.6 km (9.7 miles) to Elizabeth Lake. Going into the back country you have to do it by backpacking and bringing all your equipment.
The Belly River Trail is very scenic and with the exception of the beginning of the trail, it does not have a lot of elevation which is good when you are walking around with your heavy backpack. The trail drops about 226 metres (741 ft) for the first about 3.2 kilometres (2 miles). If it is or has been raining it can be pretty tough walking up this part on your way back as it can be pretty muddy and when you're carrying a heavy load it doesn't make it easier. Thereafter the rest of the trail is relatively level when you are in the Belly River Valley where you will have a view of a beautiful open meadow.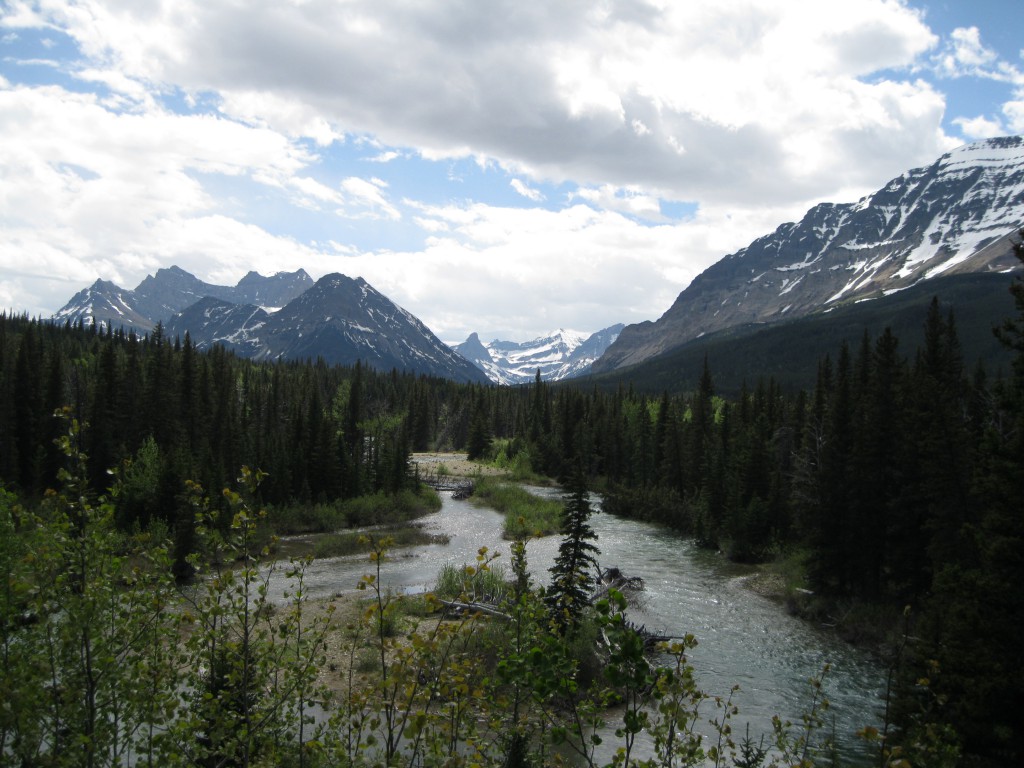 Hiking down to Gable Creek you may encounter many difference things. Walking through aspen and lodgepole pine forest you will see all sorts of wildflowers such as the Glacier Lilly which is a pretty little yellow flower that is native to western North America or the False Hellebore which is a beautiful green plant native to eastern and western America, mind you that it is actually extremely toxic. You may see scratches made onto the stems of trees by bears, you may see footprints by bears, but most of all you'll see spectacular mountainous scenery. If you go early in the season around May or early June there are greater opportunities of watching wildlife as there will be less tourists.
At the Gable Creek Campsite you have a great view of the mountains, such as Gable and Kaina Mountains among others. You can easily spend an hour or so just walking around here taking photos of the mountains or just sit around in grass and check out the spectacular view. Setting camp here is highly recommended.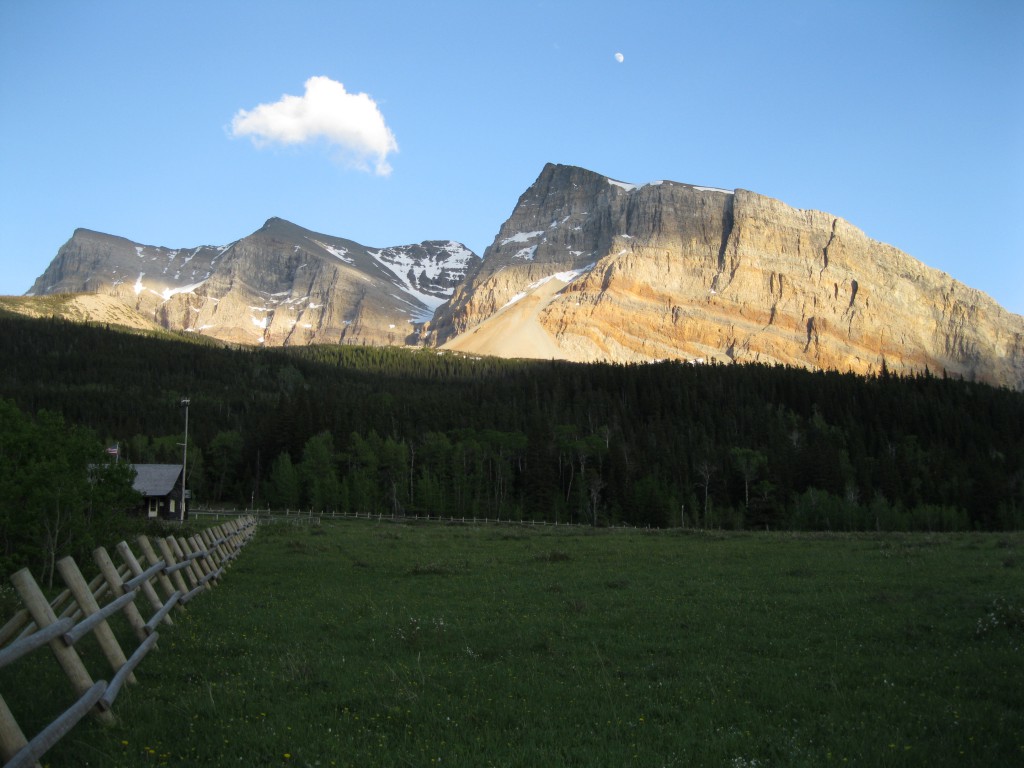 The food preparing areas in Glacier National Park are pretty nice. There are areas built with logs of wood so you can have a nice comfortable sit down. You have to bring cooking utensils and equipment as there won't be anything available. Remember when you are off to bed in your tent, you have to hang the food and toiletries up in a tree which will be done with a rope. Unlike other national parks where won't be bear proof containers available to lock this away. But here there are designated food hanging areas at the campsites which are at or close to the cooking areas. These are placed away from the tent spots so the smell of food or perfume won't get near the tents and will therefore not attract any bears. So remember that you are in bear country, be careful and bring your bear spray.
One of the many cool things about camping and staying at these camping areas is the people you meet along the way. People are always friendly and you get to have a chat about funny cultural difference and you can share travel stories. Great fun.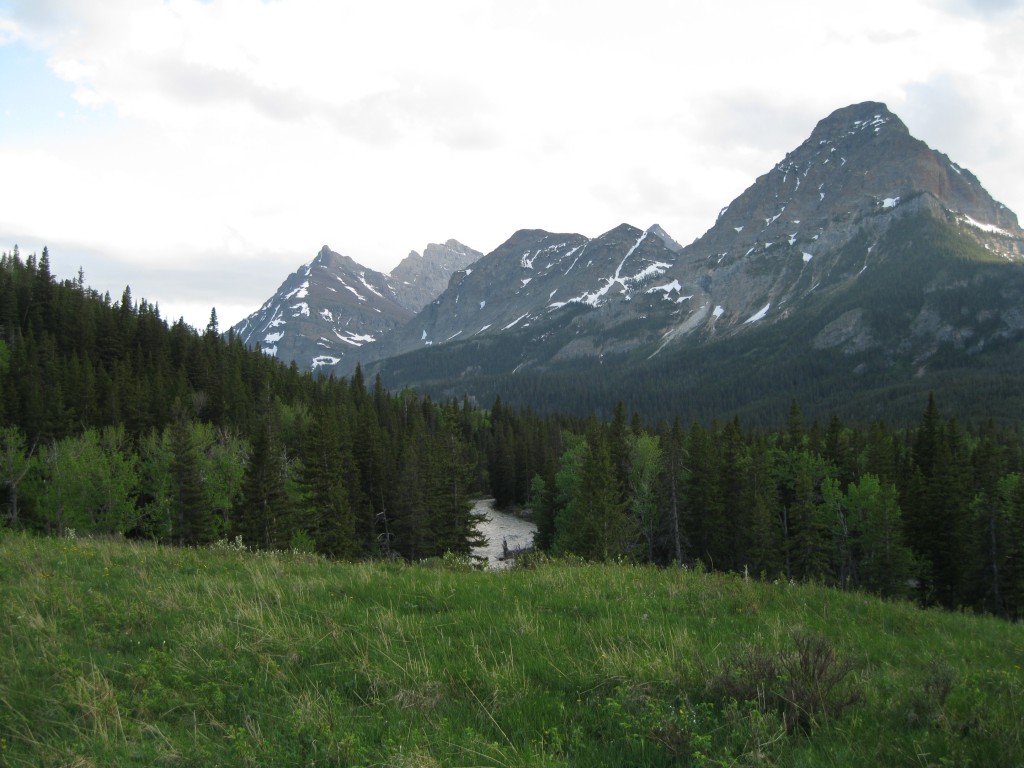 The next morning you can hike down to Elizabeth Lake which is such a beautiful area. The distance from Gable Creek to Elizabeth Lake is 5.6 km (3.5 miles). On the way you'll cross the Belly River which is a great place to get some neat pictures. A bit further down the trail which is called the Ptarmigan Trail you will see the Dawn Mist Falls which is really nice and a good spot to either have lunch or a snack. This is a pretty big waterfall so it will be a good opportunity to take it in.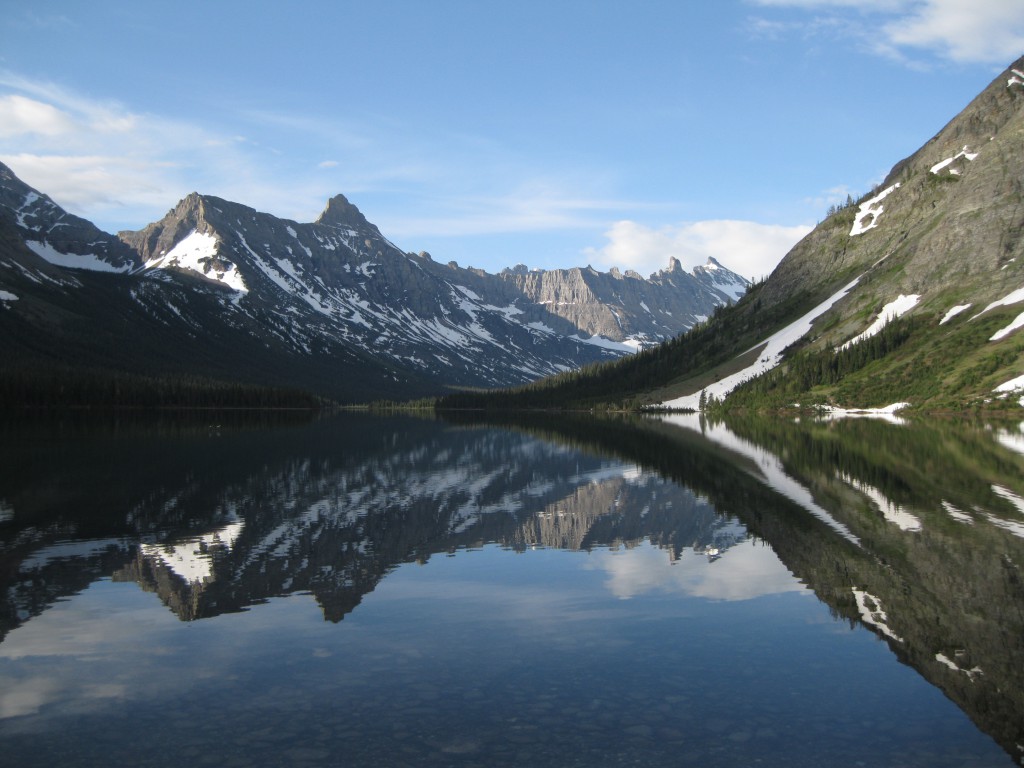 When you arrive at Elizabeth Lake you can set camp and have a look around the area and take pictures. The campground is pretty close to the lake which is really cool. There is a bit of wildlife in this area as well such as ground squirrels and snow shoe hares. Both are really cute, but they be aware of the ground squirrels as are so used to humans that they can be a bit cheeky when you are cooking and having your meals. The sunset at Elizabeth Lake is amazing. You can get some awesome shots of the mountains and on a good day the top of the mountains will have orange reflection from the sun.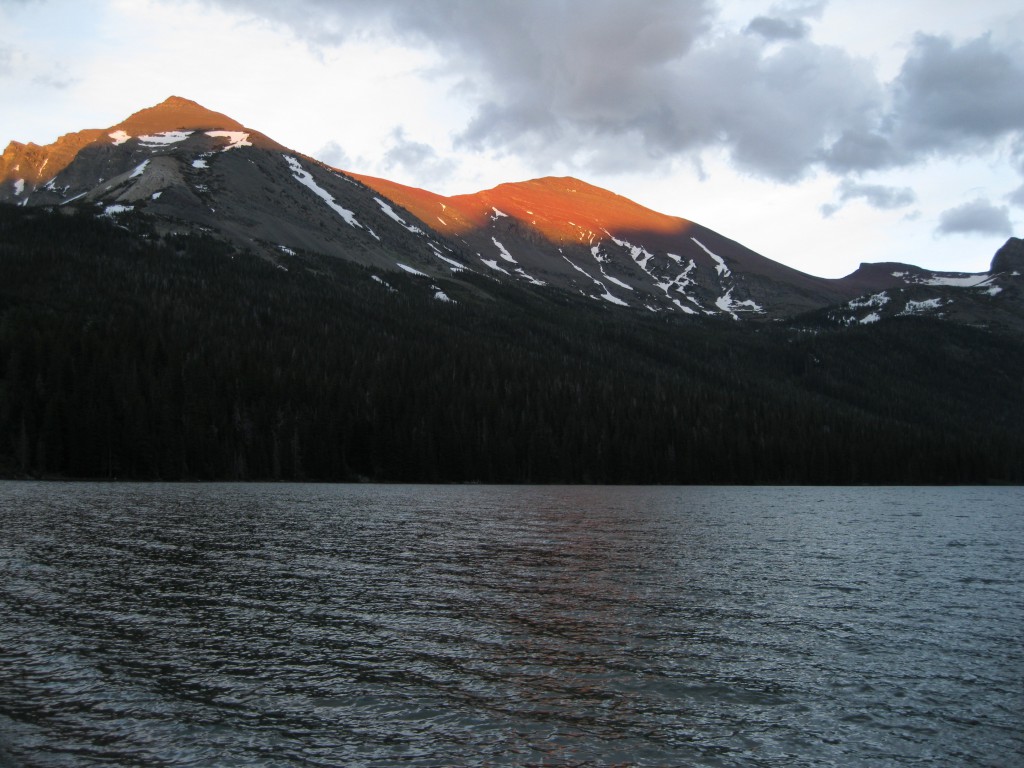 From here it is recommended doing a day hike up via Red Gap Pass where you will have a perfect bird's eye view of the lake. It is a little strenuous but not too bad, only because of the elevation, but you can do it without you heavy backpack and just with a day pack. The further you get up the better the view will be of Elizabeth Lake and the surrounding area. It's also a good option to do a bit of bush whacking up there.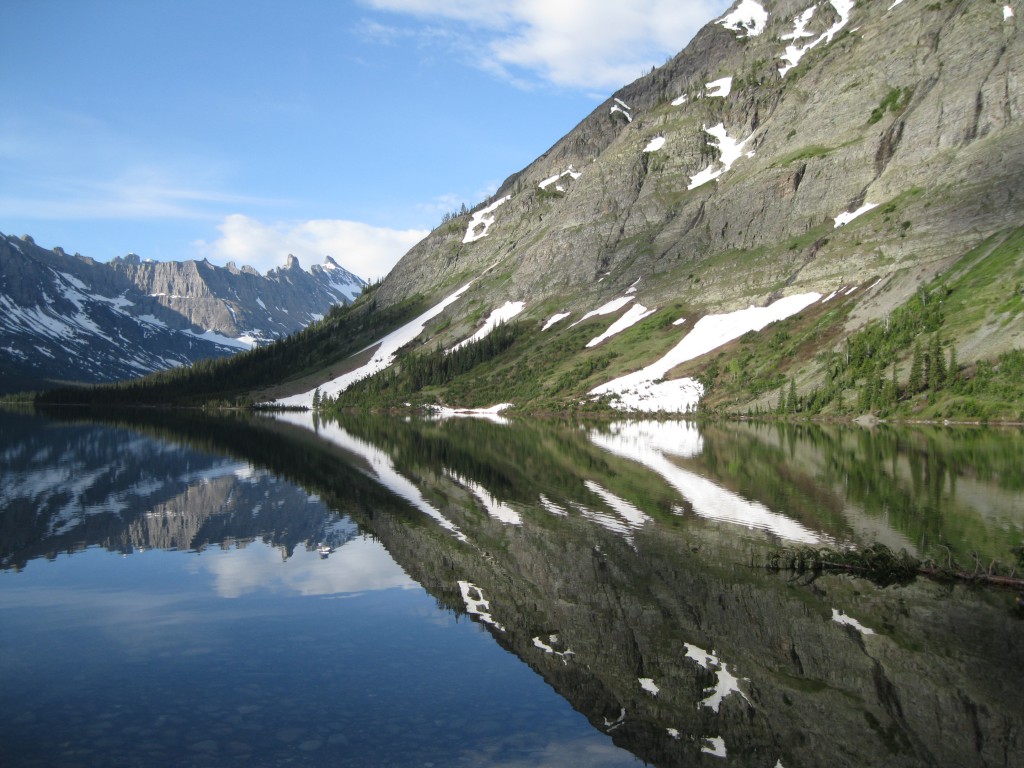 The following day you can hike up to Cosley Lake also via the Ptarmigan Trail. From Elizabeth Lake to Cosley Lake it is 6.8 km (4.2 miles). The hike is pretty easy but just before getting there you have to walk through a lake at the end of the trail. It's not too bad, but it is advised that you take off your pants and cross in a pair of bathers (speedos) wearing a pair of thongs (flip flops). When you arrive at Cosley Lake, set camp and do a day hike down to Glenns Lake which is a really nice spot as well.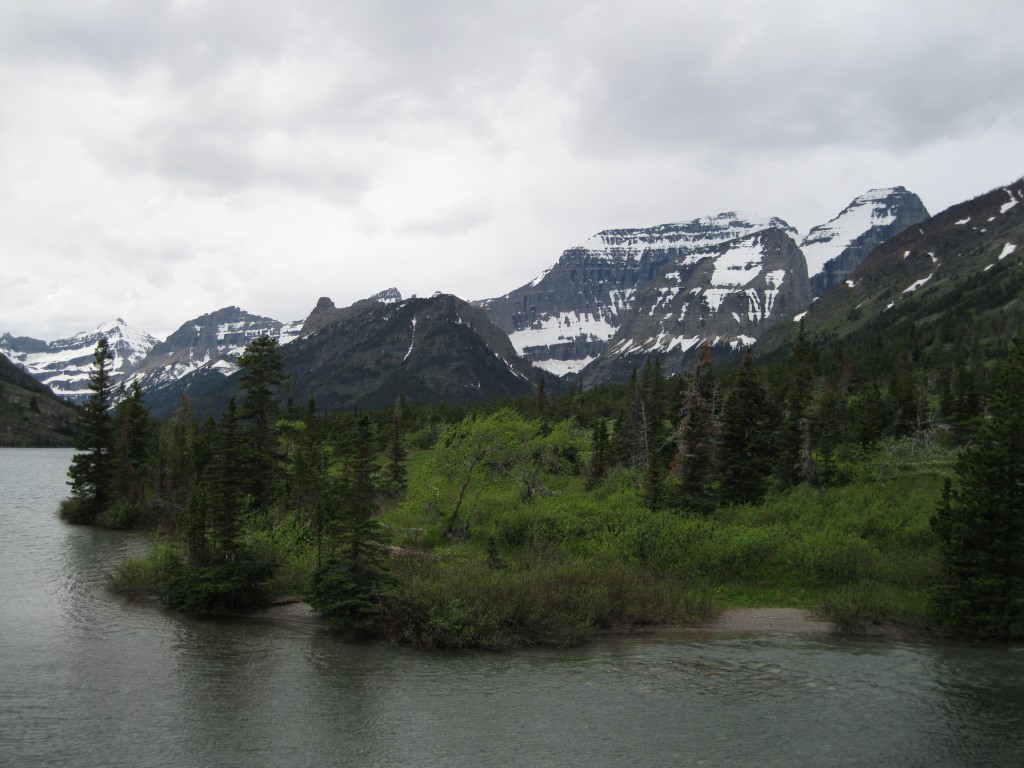 The campsite at Cosley Lake is pretty close to the lake. So it's just a couple of steps down to where you will have a fantastic look at the lake and the mountain peaks in the background. Here you will see Pyramid Peak in the centre, Mount Kipp to the left and Cathedral Peak to the right. The glacier on Cathedral Mountain is called Shephard Glacier. If you're lucky the peak will reflect perfectly in the lake and you will be able to take some great shots. Cleveland Mountain can also be viewed here which is the tallest mountain in the park.
You can camp down at Glenns Lake if you want to. There is a campsite at Glenns Lake Foot and one at Glenns Lake Heads. The lake is long and narrow and you will have a great view of Pyramid Mountain which is the dominating peak to the west.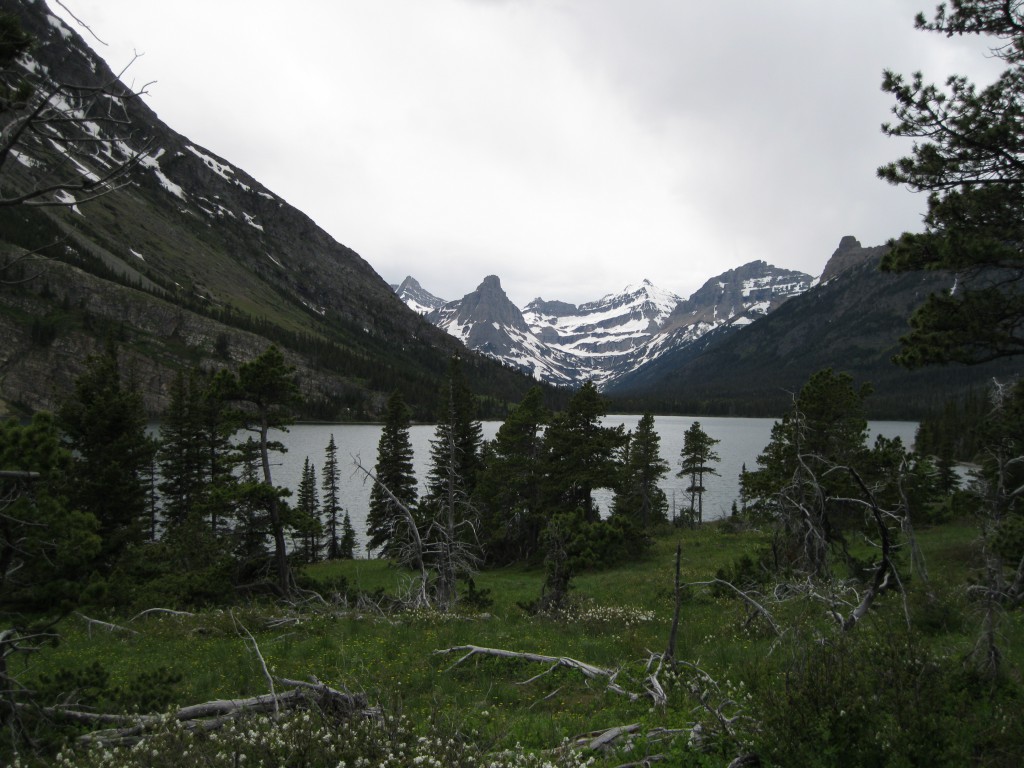 You can continue further into the park if you prefer. If you want to go back you can return to the trailhead through Belly River you will pass Gros Venture Falls on the way which is nice. Ending back on the Belly River Trail you will get great views on the same trail you started on just in the opposite direction. Good stuff!