Banff National Park which was established in 1885 is one of the most stunning parts of the Rocky Mountains.
Depending on the route you are taking, but if you are going from Jasper National Park towards Banff National Park, it is highly recommended that you take the Icefield Parkway as the scenery on this route is absolutely amazing. So beautiful that you feel like having photo stop at every corner you turn.
One of the major tourist attractions of the park is Lake Louise (pictured below). The lake itself like so many other lakes in this area has an emerald colour which is due to the rock flour coming from the melted glacier water. The view of the Rockies in the background at Lake Louise is absolutely stunning so if you are into your photos you can take some amazing shots here. If the water is absolutely still you can get a perfect reflection in the water of the mountains as well.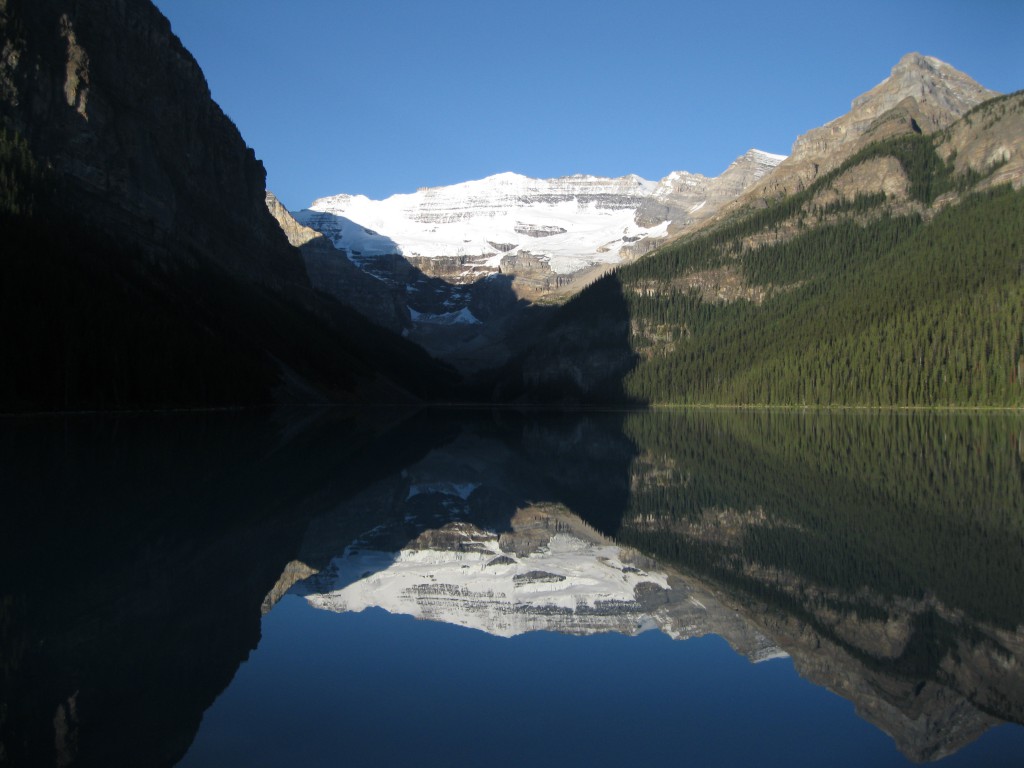 On the eastern shore of the lake a hotel called The Fairmont Chateau Lake Louise is based which is quite a beautiful building. It was opened in 1911 and was created by the Canadian Pacific Railway as holiday destination to attract wealthy travellers into heading out West by train.
Out of Lake Louise you can do all sort of hikes. A recommended one is going to Lake Agnes via Mirror Lake. From Lake Louise to Mirror Lake it is about a distance of 2.6 km (1.6 miles) and from there to Lake Agnes it's another 0.8 km (0.5 miles). The hiking trail is a bit elevated but if you are in fairly good shape it's absolutely not an issue. On the way up you will have great views of Lake Louise, the woods and the mountains framing the lake.
Mirror Lake is a nice little spot with the Beehive Mountain right behind it. You will have great photo opportunities here as it's really beautiful with the lake and the mountain all surrounded by the woods. Also really depending on the time of year you're visiting, if it's snowing it will add yet another spice to the view as well.
Continuing up to Lake Agnes (pictured below)  you will be approached by a stunning view of the lake and the mountains around it. From this area you can actually also spot Beehive Mountain in the background. At Lake Agnes you will find the Lake Agnes Tea House which is a really cosy little spot where you can have a chill with a piece of cake and cup of coffee.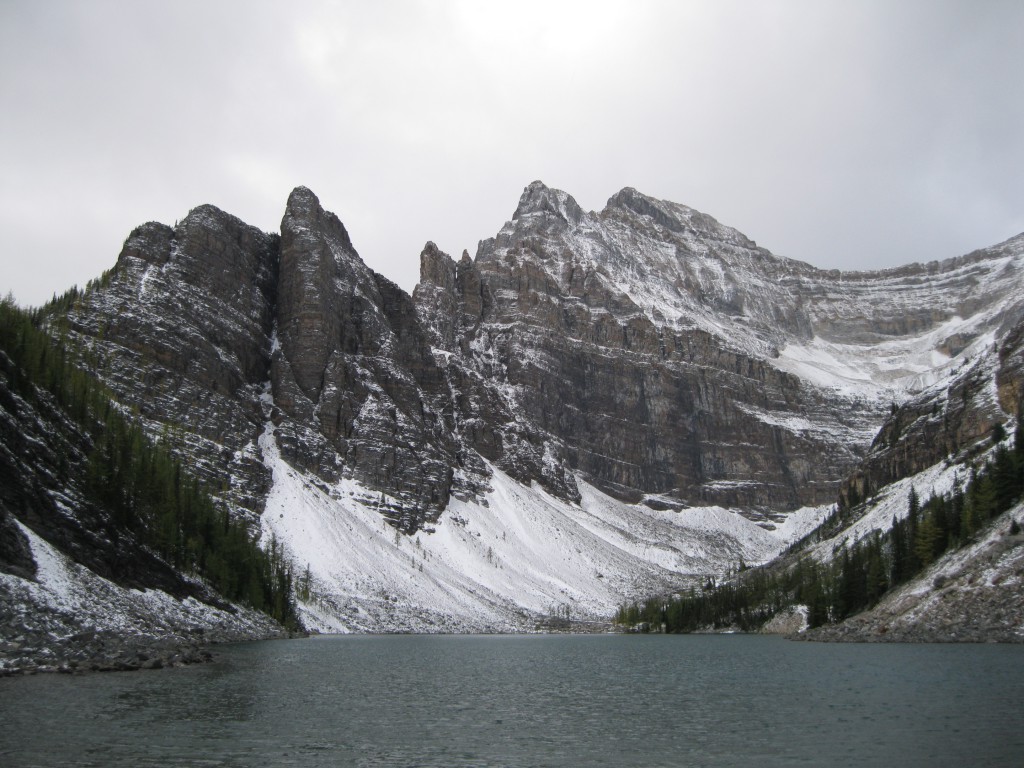 Going down again towards Lake Louise you will be faced with amazing views of the lake and the chateau. Remember to look back to where you came from as that will be a good view too.
Not too far from the lake the hamlet of Lake Louise is located. It is the highest placed community in Canada at an elevation of 1,540 metres (5,052 ft). Over the years it's been developed to serve the people visiting the area.
Moraine Lake (pictured below), which is located about 10 km (6.2 miles) to the south of Lake Louise, is one of the most beautiful spots of Banff National Park and of the Rocky Mountains as a whole. Visiting the lake and having a photo stop to take pictures of the lake with the Valley of the Ten Peaks in the background is an absolute must.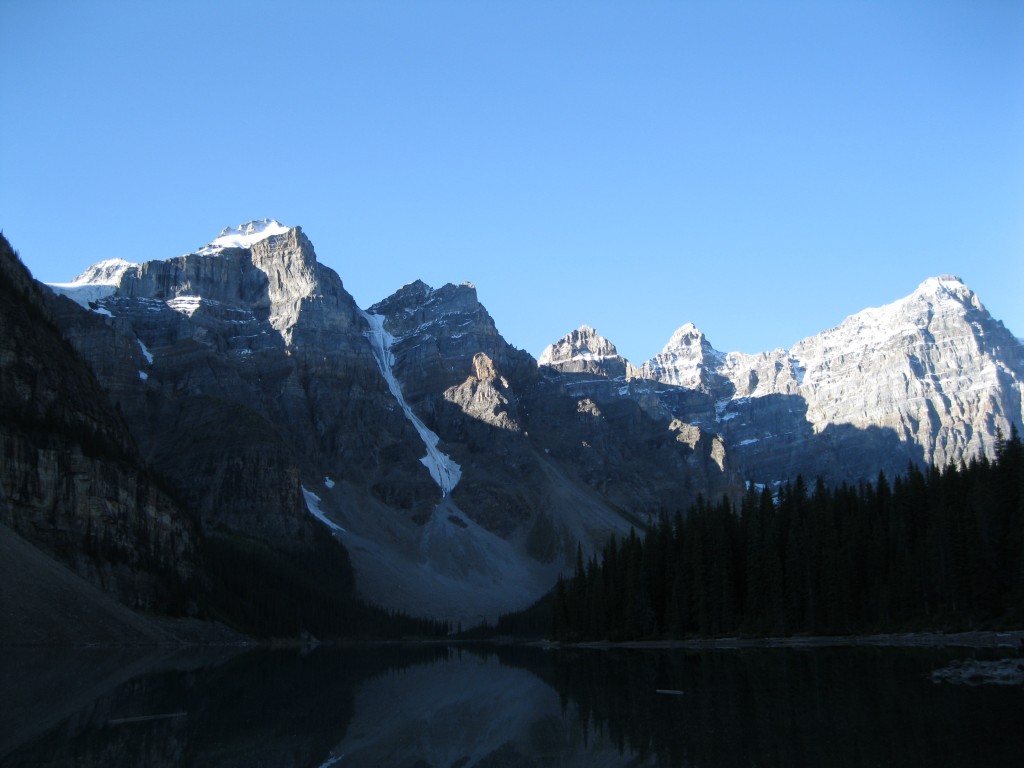 There are several hiking options at Moraine Lake. A really fantastic option is going up via Sentinel Pass and down through Paradise Valley.
The hike is not too strenuous, but of course this depends on how fit you are. If you take it fairly slow and easy the elevation is not too bad. Going up you will have great views of Moraine Lake through the Spruce trees. When you reach Larch Valley (pictured below) you will have a great view of the Valley of the Ten Peaks which gives a different perspective to what you had at the foot of Moraine Lake. Absolutely beautiful.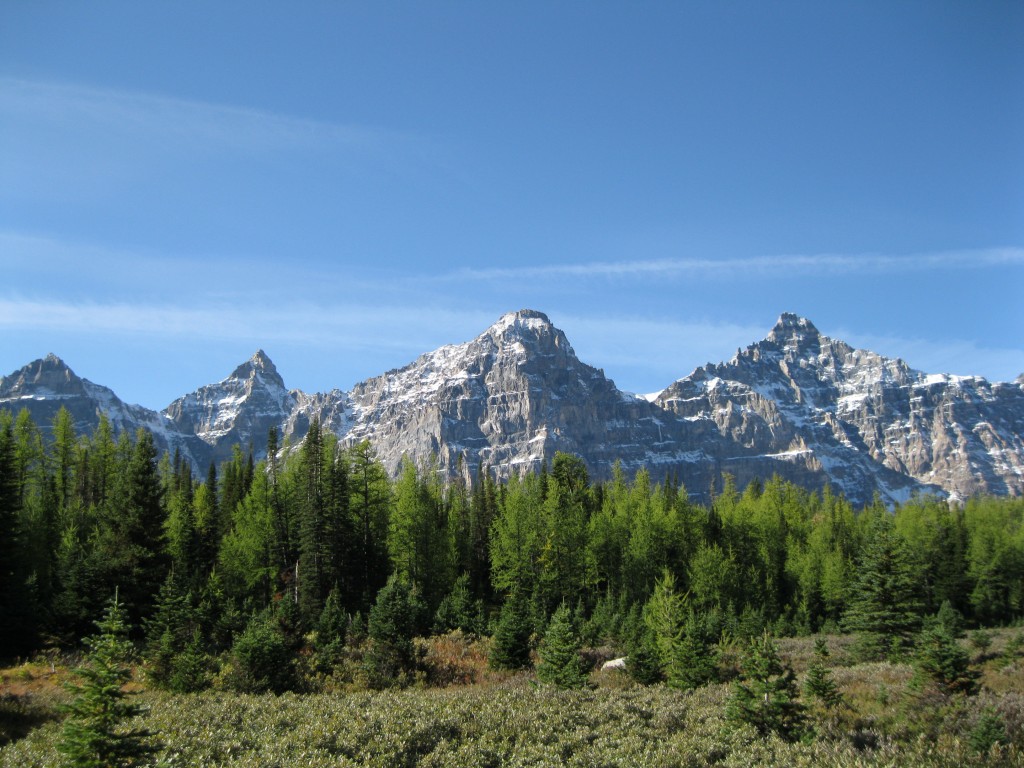 When getting to Pinnacle Mountain you can walk up Sentinel Pass which is more demanding as it's a fair bit steeper. At the top you will have killer views of Larch Valley (pictured below) which you came from to one side and Paradise Valley to the other side. Utterly amazing.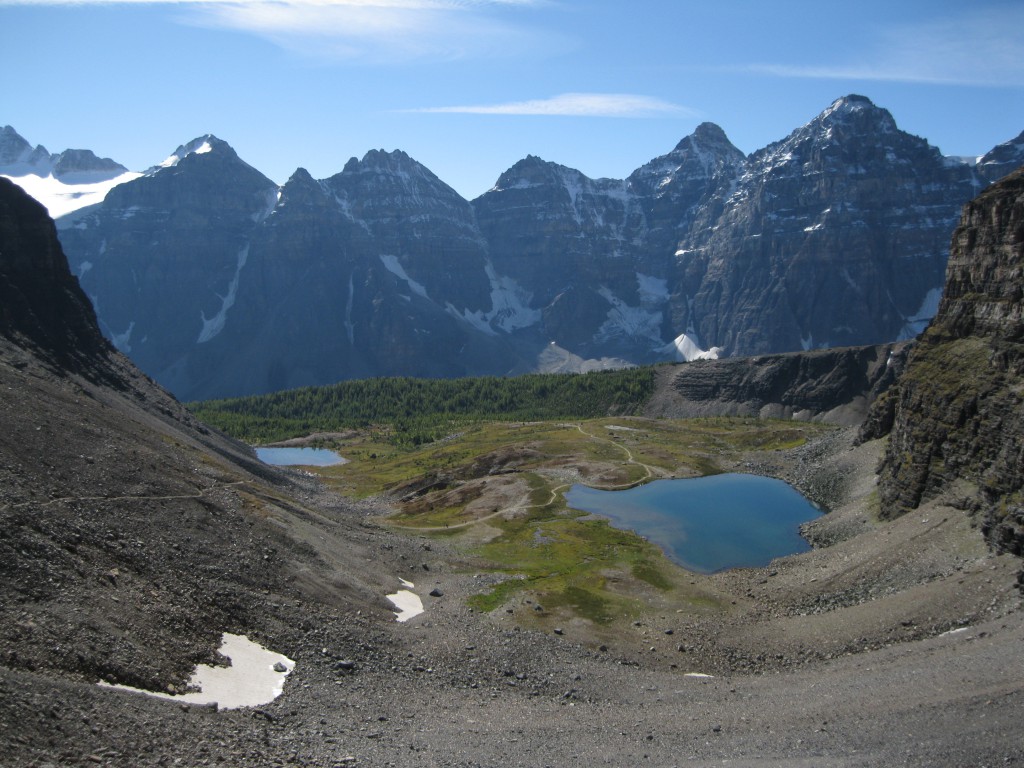 Continuing the hike down into Paradise Valley (pictured below) is the most strenuous part as you are walking down through loose rocks. Be a bit careful here. There may also be some ice among the rocks. When you get down to the valley there are stunning views of the massive mountain range ahead of you. Awesome! Remember also to look back up at where you came from as that is a great view too.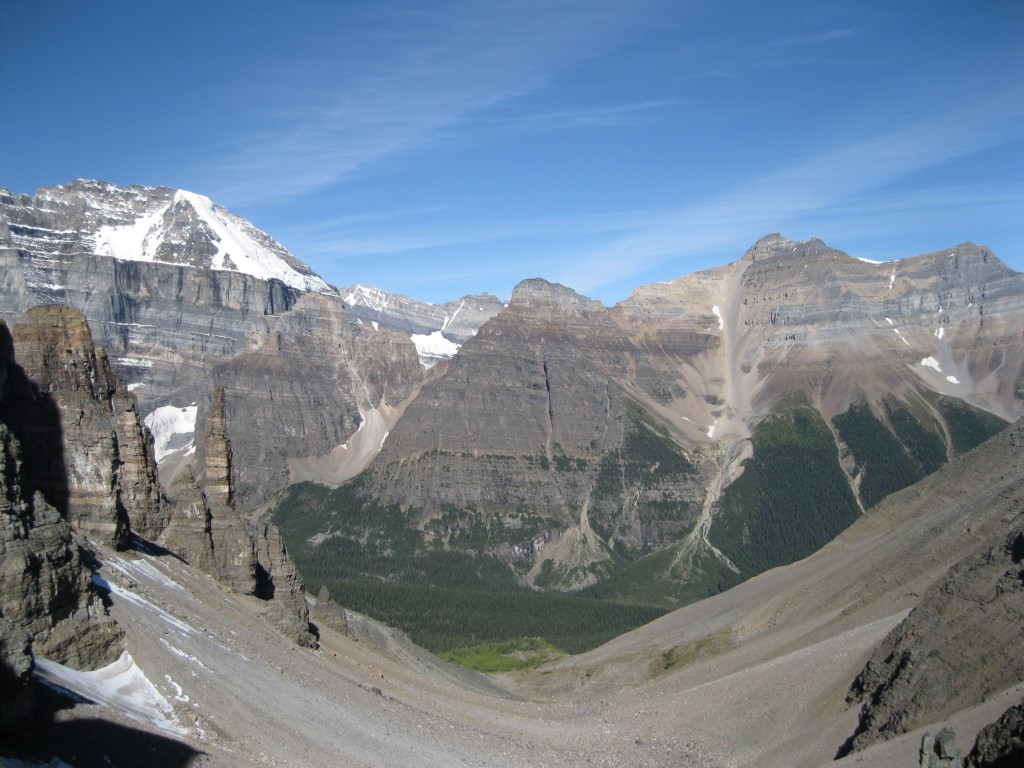 When you get further down into Paradise Valley ifself you can sit down, have a chill and lunch. Sitting here looking at the stunning mountainous scenery all around is absolutely amazing.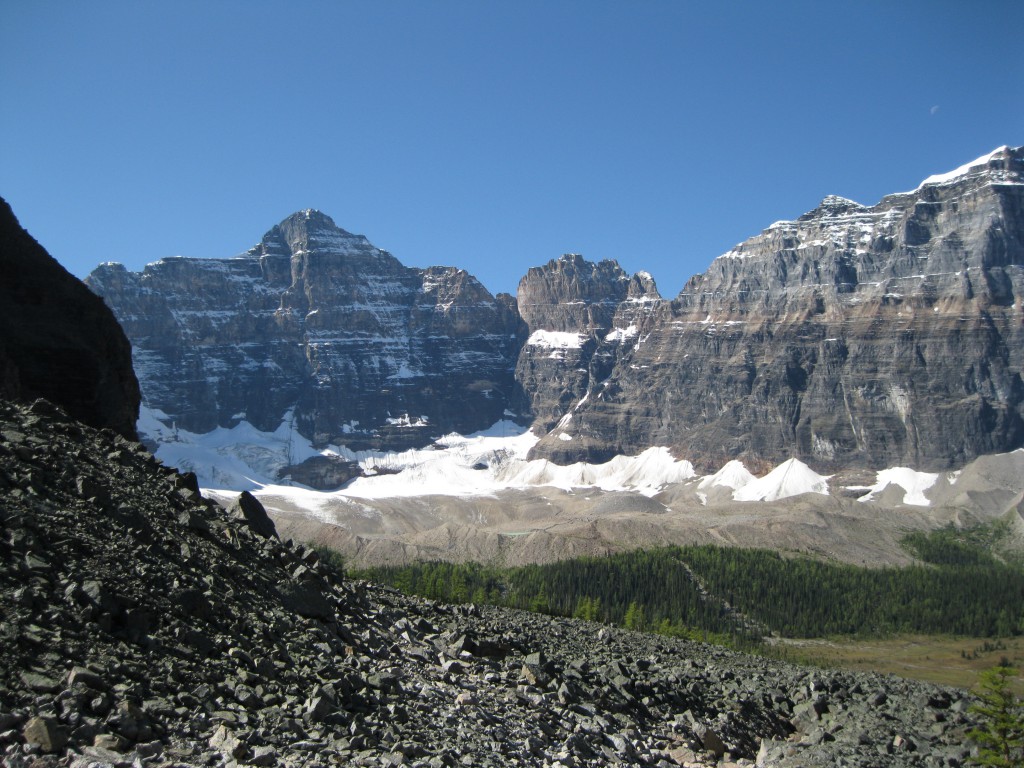 Walking away from Paradise Valley is a fairly easy walk. On the way you'll pass the very pretty Lake Annette and the Athabasca River. When hiking in this area of the park you have to be in a group of at least four people due to safety reasons in case you encounter a grizzly bear. This is mandatory and if you do not comply with this minimum size you can be charged and subject to a court appearance and may be fined CAD 5,000.