Miami Beach is a coastal city located next to the city of Miami and has a lot to offer.
South Beach is the most famous neighbourhood and if you would like to be in the busy and happening part of town you should stay here. There are loads of possibilities for accommodation and even if you want to stay in this area and prefer a bit of peace and quiet, you can easily find a nice hotel without any form of disturbance.
If you prefer to stay in a quiet part of town the neighbourhood of North Beach could be an option. Mind you by staying there you'll be a fair distance away from all the interesting sights, restaurants, bars and shopping opportunities.
Miami Beach is a beautiful spot and there is plenty to do, not only here but also in Miami and out of town. If you go across the bridge to Miami, you can have a walk around Downtown, go to the Seaquarium, do the Star Island tour and so on. You can also do tours of Everglades National Park or Key West.
In Miami Beach there is a great atmosphere, especially in South Beach. During the day you can do all sorts of activities or just chill at the beach if you are a beach person. In spite of its name, Miami Beach is much more than just the beach itself.
At the very bottom end of South Beach at South Pointe Park you will have some great views of Fisher Island and the Miami Downtown Skyline. If you walk out to South Point Beach you'll have a vista of Miami Beach as far as the eye can see.
A really great way to see and experience Miami Beach is by bike. Bikes can be rented via Decobike on many different spots all over town where docking stations can be found, most assessable in South Beach. It's easy – at the station you can decide on your rental term (by the hour or day), pay by credit card and you're ready to go. When finished you simply dock it at one of the many stations around town. There are more than 85 locations from 1st Street to 85th Street and more than 1000 bikes in total with 24/7 access. If you are a bit over time, for which you initially paid, you will be charged additionally by half hour. You can get pretty far around town. From South Beach to North Beach to Bal Harbour you will encounter a lot of beautiful scenery on the way – residential housing, high-rise buildings and the beach.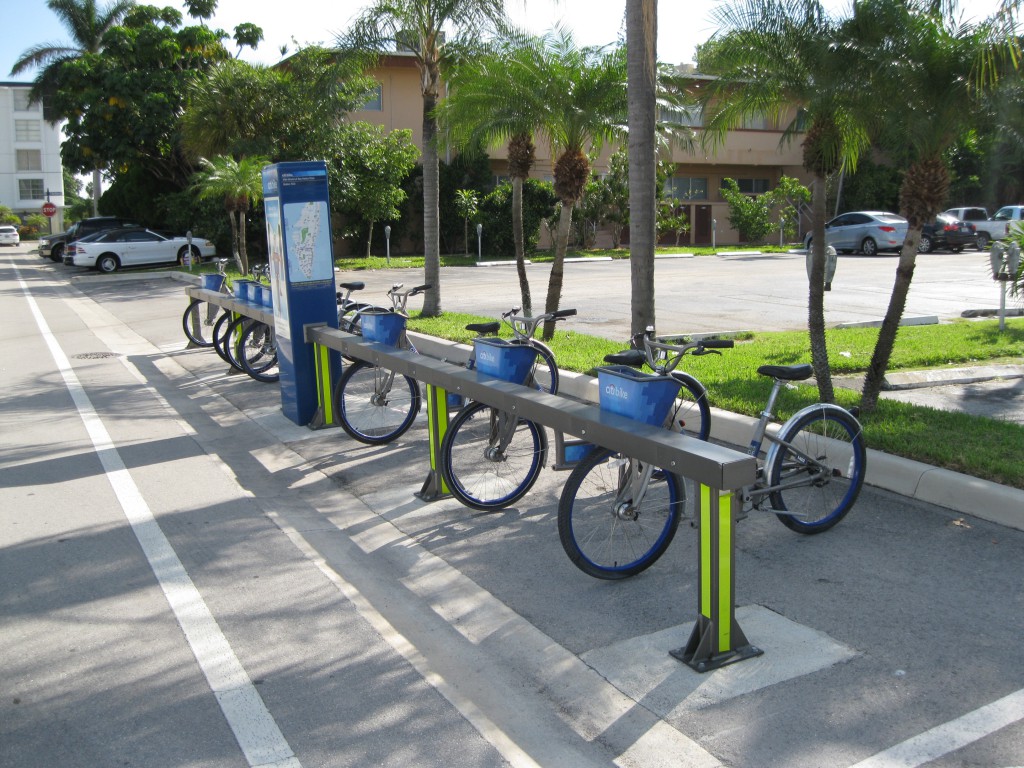 If you want to go even further it's recommend that you rent a bike elsewhere such as at your hotel if available. You shouldn't really go any further than the above mentioned areas and it will probably also be cheaper for you. An option could be going all the way up to Hollywood. Cycle up Collins Ave via Surfside and Bal Harbour which are two really nice areas with shops on Harding Ave and beautiful residential housing. Cross the bridge to Bay Harbor Island at 96th Street which is really beautiful with palm trees along the road, cycle southbound on E Bay Harbor Drive and you will be able to take some great shots of the Miami Beach skyline. Have a look around this area, go back to Collins Ave, then cross the bridge to Haulover Park which has a great beach area.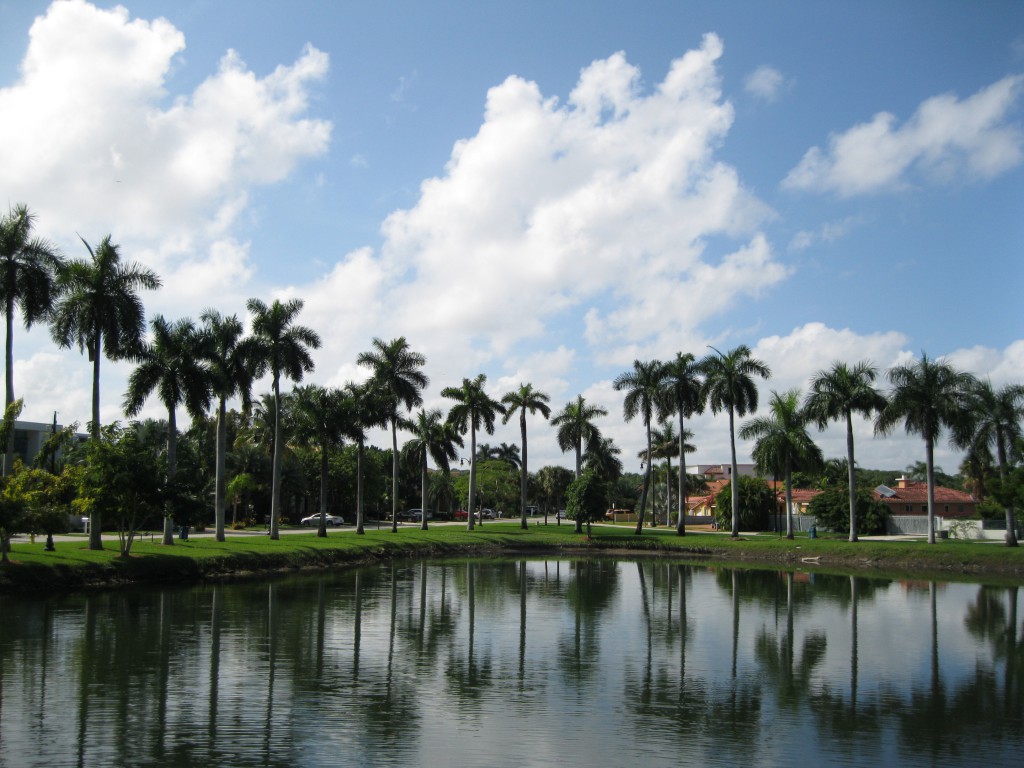 Continue up to the resort areas of Sunny Isles Beach which is really stunning. You can access Atlantic Isle via the Atlantic Isle Bridge, which was built in the mid 1920s and is designated as a historic site, and check out the massive residential housing. If you cycle all the way out to the tip of the isle you will reach a roundabout. This is a great photo opportunity where you can get some great shots of the bay and Oleta River State Park.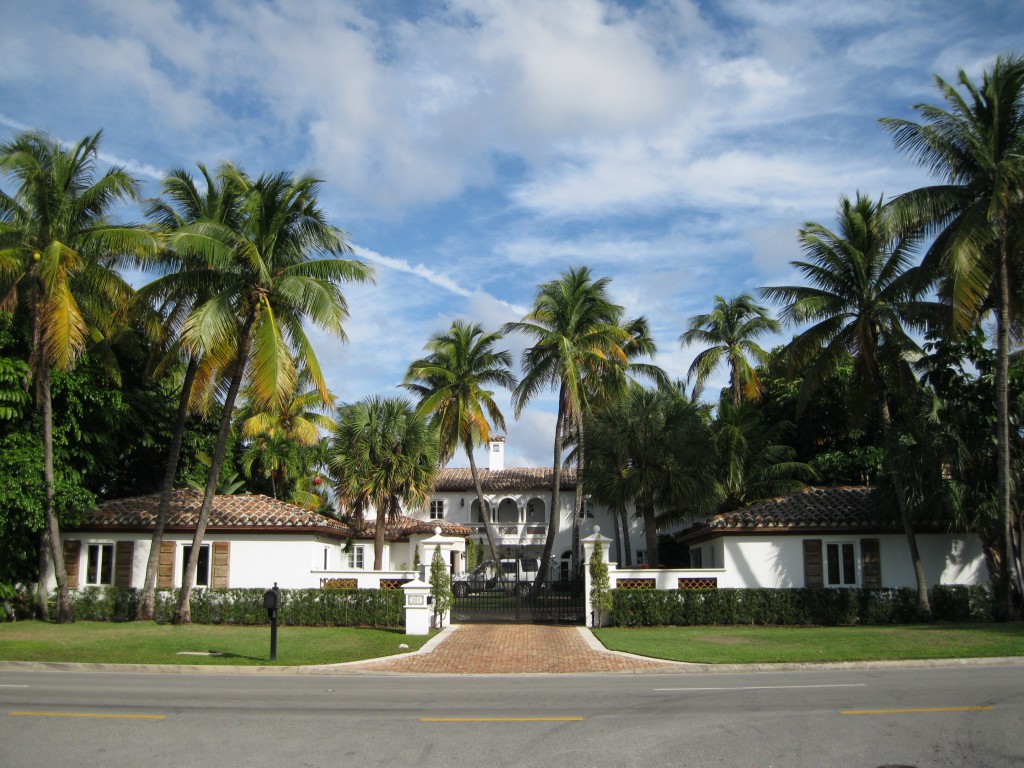 Return to Collins Ave and go further north via the Town of Golden Beach where there are some pretty spectacular mansions. Here Collins Ave changes to Ocean Boulevard. Continue north and you will reach Hollywood.
Hollywood is a really nice city. Going down to the beach you'll find a promenade going all the way along the beach where you can cycle around or have a walk. Check out one of the restaurants, have a meal and a great craft beer and check out the activity at the beach. Good times. Spend some time here and return to Miami Beach on the same route from which you came.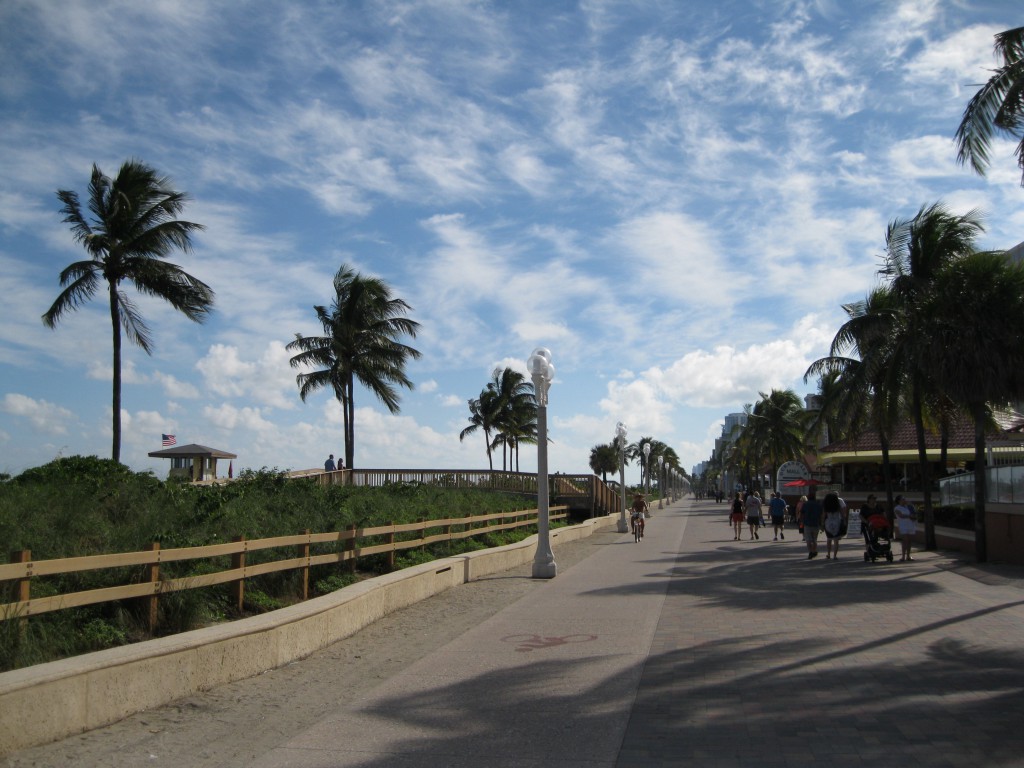 An interesting historical aspect about this area is that back in the 1800s mail was often carried between the coastal communities by barefoot mailmen on the sand close to the edge of the water, all the way from Palm Beach to Miami. A distance of 193 km (120 miles) which was covered in six days.
On the way back to Miami Beach you can check out a bit more of North Beach where there is a nice park called the North Shore Open Space Park located just to the east of Collins Ave between 79th Street and 87th Street. With all the vegetation some of this area is actually what a part of Miami Beach used to look like before tourism kicked in. This is also a place where people have barbecues and hang out together. Good stuff.
One of the many highlights of South Beach is the Art Deco architecture which is especially present at Ocean Drive. Another reason this area is nice is because of the cool atmosphere both during the day and at night. During the day you can have a stroll down the boulevard, check out the Art Deco buildings, have a sit down in Lummus Park under the palm trees in the shade, walk down the promenade and check out the people playing beach volley or maybe join them. In the evening there's a killer happening vibe in the area. At the entrance to Lummus Park from Beach Walk you will have a great view of some of the Art Deco building being lit up. Very picturesque. Here the Beach Walk turns into a promenade which continues along the grassy area and the sandy part of the park. You could visit one of the bars, have a drink, watch some sports and have a chat with the locals or other tourists. Lummus Park is such a great little breathing space in South Beach which stretches from 5th Street to around 15th Street.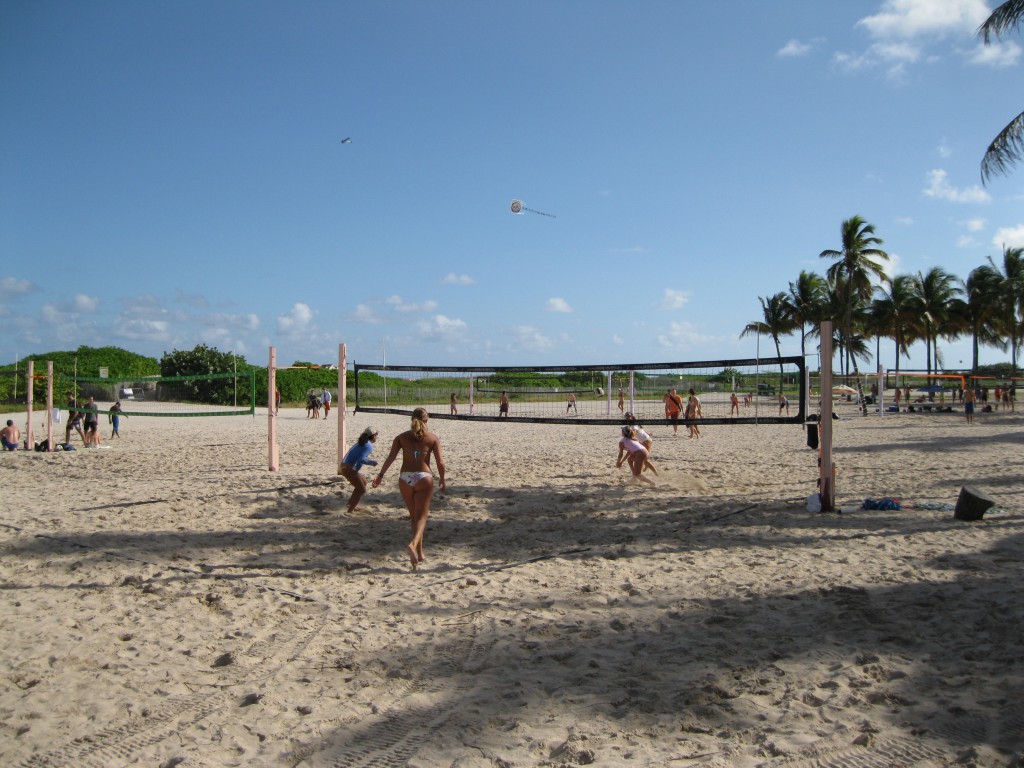 The Beach Walk is a very cool part of Miami Beach both during day and night. The boardwalk part begins at 46th Street and continues to 23rd Street where it becomes paved. This continues down to and through the Ocean Drive Promenade and terminates at 5th Street. The distance from 46th Street to 5th Street is about 6.44 km (4 miles). Having a walk is nice and beautiful in the night. It's really tranquil and so cosy. So if you want to get away from the busy nightlife and want to have a quiet walk, this is the spot. This is actually also a great way of getting around by foot as you won't have all the pedestrian traffic and traffic lights which is apparent on Collins Ave. The actual Beach Walk continues beyond 46th Street where it's both paved and also becomes a dirt road all the way up to North Beach. On most of the Beach Walk there will be access to the streets.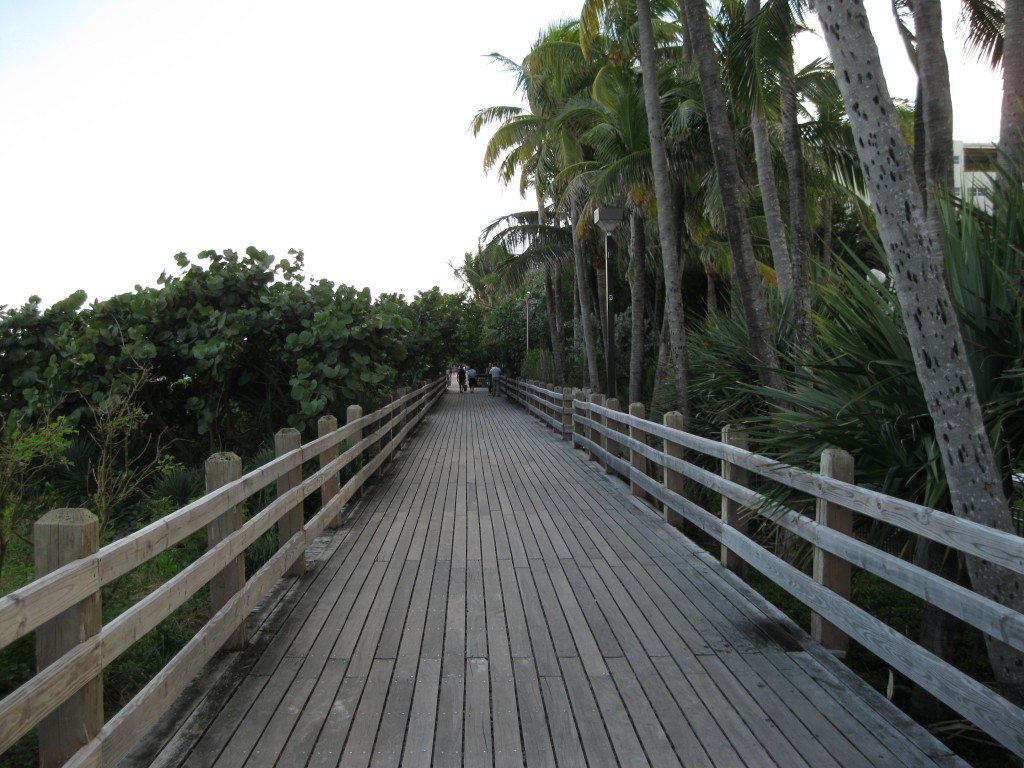 The Art Deco buildings are mostly predominant at Ocean Drive. Most people are only aware of the Art Deco of this area but there are several other structures created in this style around town. The Art Deco Historic District actually stretches from 6th Street in the south to Dades Boulevard in the north and from the beach in the East to Lenox Ave in the west. It is the largest collection of buildings of this category in the world and consists of hundreds of structures built from 1923 to 1943. The characteristics of the Art Deco buildings of Miami Beach are the pastel colours and the wonderful detailed craft motifs. Furthermore the streamlined, aerodynamic, curved corners with big glass panels, columns and neon are typical features. The architects who developed the area in the 1930s liked the design but also added a tropical spice to it.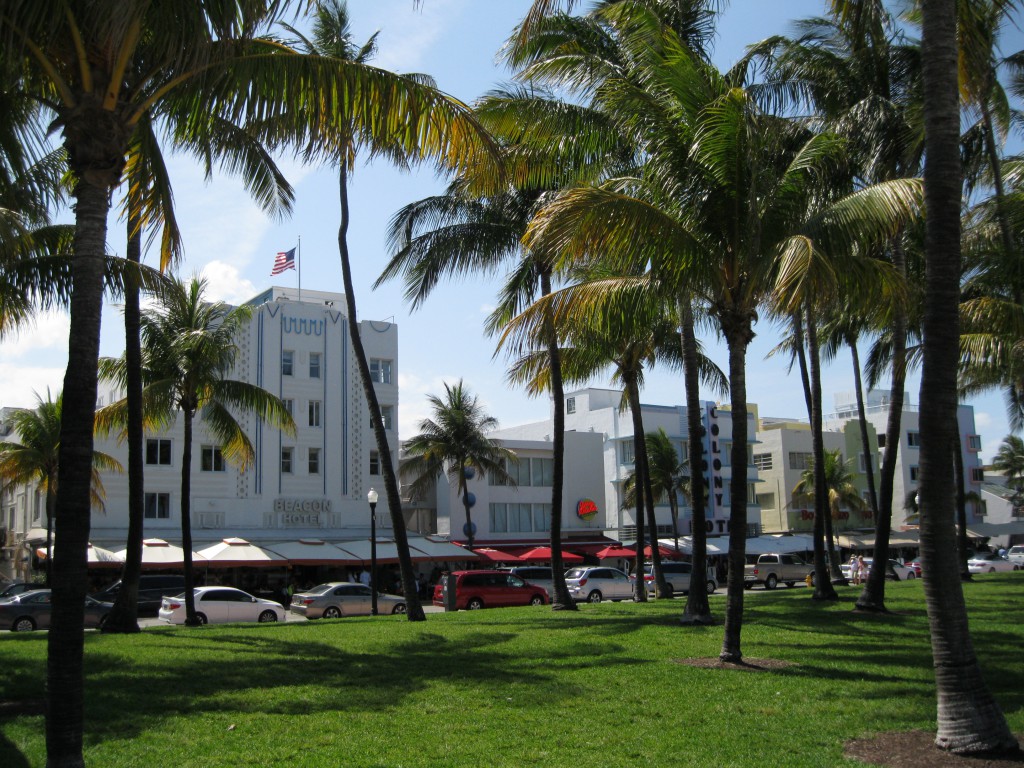 The Art Deco Welcome Center is located at 1001 Ocean Drive and is worth a visit as well. Here you can find all sorts of information about the area and souvenirs.
There are several great buildings worth a mention on Ocean Drive, the Colony hotel being one of them which is an iconic structure located at 736 Ocean Drive. This is probably one of most well-known buildings on Miami Beach which can be seen in different articles and guide books about the area. It is beautiful with the big "Colony Hotel" neon sign on the façade which is lit up at night giving it a fantastic look. The purple, blue, baby blue and light green colours of the hotel also fit very well together as well. It's an absolutele must to check out this building.
The Cavalier South Beach Hotel at 1320 Ocean Drive is another great example. It has principal front of mainly baby blue and cream colours with some cool detailed art work in the centre of the building.
The Carlyle is also a classic Art Deco hotel at 1250 Ocean Drive. In this case the colouring is more neutral which is actually really neat. It was erected in 1939 and has a white and cream façade which is basically unchanged from the original. The building has been the backdrop to several films such as "Scarface" from 1983 with Al Pacino which was directed by Brian de Palma.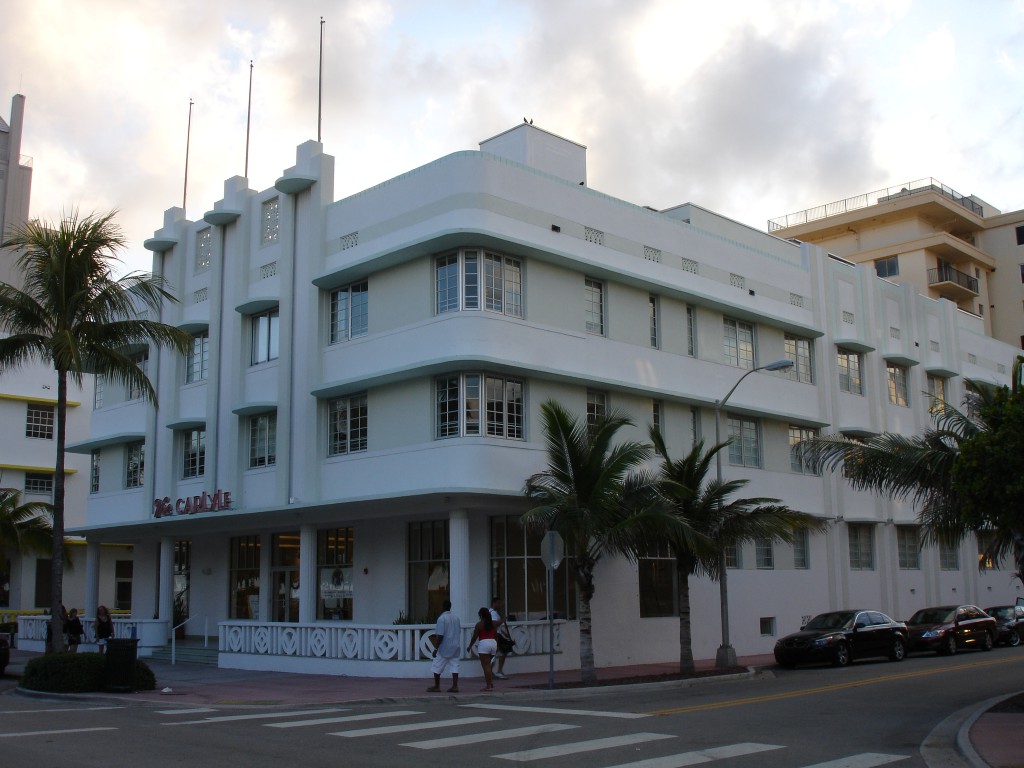 Waldorf Towers Hotel is not that well known but it is a nice little hidden gem at 860 Ocean Drive. It is basically a white building with yellow and pink pastel colours on the centre of the façade. It's simple but a cool look.
Beacon Hotel based at 720 Ocean Drive goes back to 1937 and yet another great example of beautiful Art Deco building. Colour-wise it is also more basic with some interesting simple art work on the exterior which is really nice.
If you're lucky you may see some vintage cars parked outside the hotels along Ocean Drive.
To the west of Ocean Drive there are plenty of other beautiful Art Deco buildings. In the area of lower Meridian Ave and Jefferson Street you will find several examples away from the more busy and touristy area of Ocean Drive. A great example is the Evans Kiamesha Apts Building at the corner of Jefferson Street and 8th Street. A simple rectangular cream coloured building with a blue vertical line in the centre of the façade which matches the blue awnings. Another example is at Euclid Ave and 13th Street where a classy cream coloured Art Deco building with subtle horizontal light green lines across the façade is located. Just two examples out of many Art Deco buildings in the more quiet end of South Beach.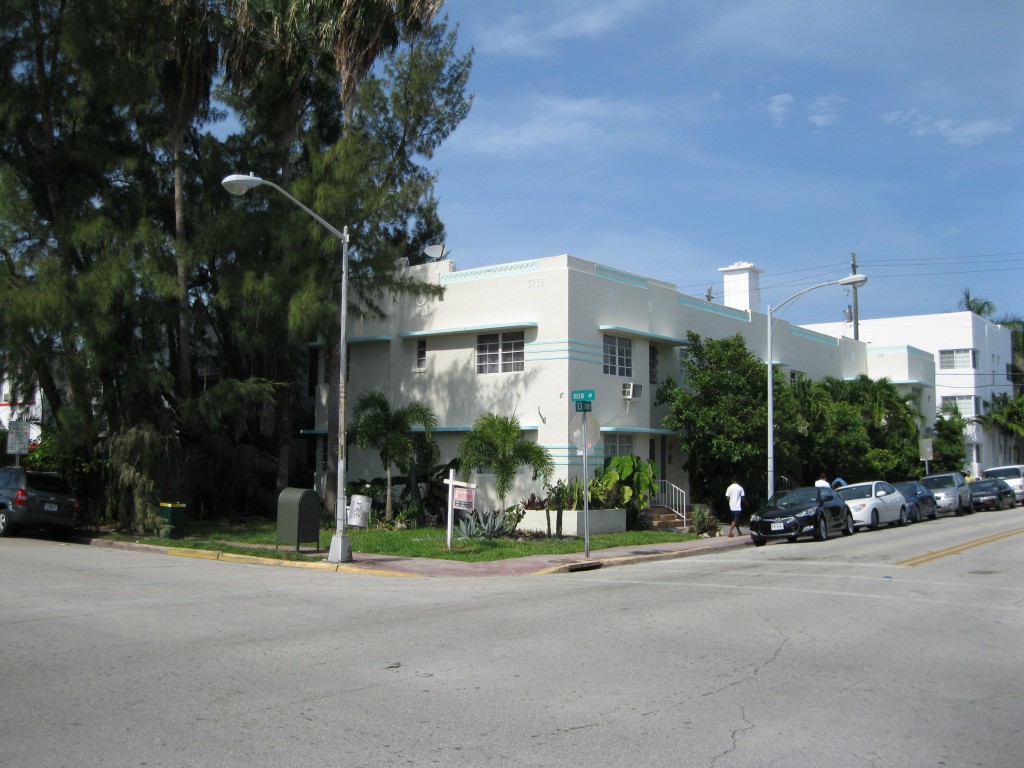 A bit further north of Ocean Drive on the main street of Collins Avenue you'll find Lincoln Road Mall between 16th Street and 17th Street. Also here there is a great vibe both during day and night. There are loads of great restaurants and bars. Furthermore some interesting designer clothes shops. They are pretty pricy but they have items on sale and they can be bargained with as well. There are also souvenir shops if you are into that, also supermarkets and convenience stores.
If you are into Cuban food there is a great place just around the corner from Lincoln Road Mall at 1654 Meridian Ave called Abuela's Cuban Kitchen. They serve great food and huge portions, you can get the Hatuey Cuban Style Ale, which is really good and is pretty similar to an American pale ale, and the staff are really friendly. Another great Cuban place is Havana 1957 located at 819 Lincoln Road Mall and they also have a restaurant at 405 Española Way. Furthermore there's a Cuban place called Puerto Sagua at 700 Collins Ave. This has more of a relaxed diner feel to it and they have some great dishes such as shredded beef and pepper steak.
One of the many great things about Lincoln Road Mall is that there are so many cool and diverse things going on in a relaxed but stylish fashion. Having a quiet stroll down the mall is such a joy. You can have a look at all the people, sit down in different areas and just have a chill. You can eat at a fancy restaurant, at a place with a more laid back atmosphere or even at a fast food joint. You can get a cup of coffee to go or ice cream and continue the stroll down the mall. A really great spot to sit and relax is in the western end of the mall between Lenox Ave and Aton Road as this is more of an open square with vegetation and some areas where you can have a sit down. Good stuff.
There are several of cool places to eat like the aforementioned Havana 1957 but also a place like Five Napkins is recommended which is located at 455 Lincoln Road Mall. They serve great American style food and have a large collection of craft brew. It's got a relaxed diner feel too it with a touch of class.
The eastern end of Lincoln Road Mall is very close to the beach. You can easily walk down here crossing Collins Ave. Depending on the time of day you can either have a lie down on the beach or check out the Miami Beach skyline. It's nice at night will all the high-rise buildings lit up.
On Collins Ave from 5th Street to 9th Street you will find a lot of fashion and designer stores. This is a neat little area to have a look around in the evening before or after dinner. If you are into surf wear there is a Quiksilver store located at 740 Collins Ave.
Abbey Brewing Company is a small brew pub located at 1115 16th Street. It's a really cosy little spot which is a perfect breathing space to have a chill. Every Sunday from 13:00 onwards they have free hotdogs. Class concept! Craft brew and hotdogs…does it get any better than that? It's a bit hard to find but they want it like that to keep it as a hidden gem and to avoid it becoming touristy. They have their own brand of beer and recipes. It's not brewed on site but at Indian River Brewing Company in Melbourne, Florida. In addition to their own four beers they also serve Belgian brew and American micro beer.
Having a look at the beach itself is pretty neat too, even if you are not a beach person. All the way along the beach you can check out the cool lifeguards stands which have been painted in all sorts of styles depending on where they are located.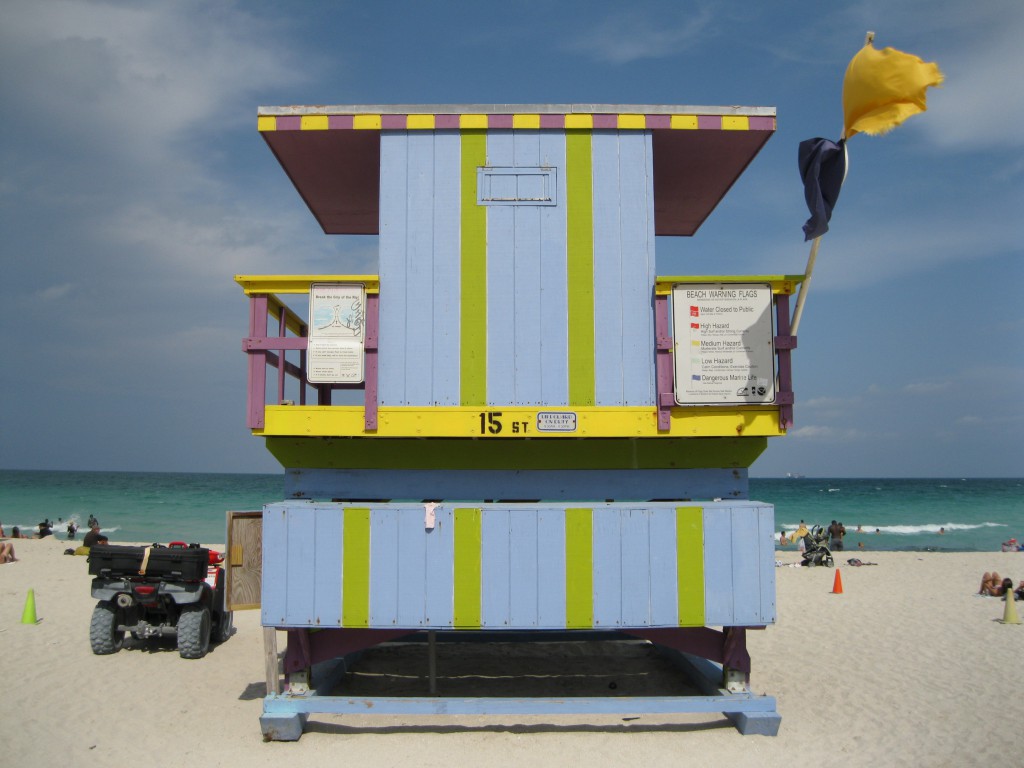 Española Way located between Washington Ave and Pennsylvania Ave and north of 14th Street is a beautiful little area with its European style architecture and Art Deco. A stroll down here is so nice in the evening as it's really lively with all its restaurants and bars.
Another great activity you can do by bike is going to Miami and checking out some of the areas there such as Downtown and Coconut Grove. The best way is going via the Venetian Causeway where you will transit through several of picturesque islands. On the causeway itself you can stop along the way to take pictures of the islands and the Miami Beach and the Miami Downtown skylines. When you get to the different islands, have a look around as you will find some beautiful residential homes here.