Kalbarri National Park is located 485 km (301 miles) north of Perth and 150 km (93 miles) north of Geraldton in Western Australia. One of the major features is an 80 km (50 miles) long gorge cut by the Murchison River through red and white sandstone. Two amazing attractions here are Z-Bend lookout (pronounced "Zed-Bend") and Nature's Window.
The national park was established in 1963 and is absolutely stunning. It can be accessed by all vehicles except at Nature's Window/Z-Bend Road which prohibits large vans, motorhomes, car towing vans or trailers. Two-wheel drives in good condition are allowed.
There are plenty of interesting activities you can do in Kalbarri National Park such as hiking, abseiling, canoeing, kayaking and so on. Mind you, the temperature in the gorges can reach 50 degrees Celsius (122 degrees Fahrenheit) so remember to bring sun screen, a hat and plenty of water as fresh drinking water is not available. Furthermore it is advised if you are hiking to leave early in the morning or late afternoon, especially for long hikes.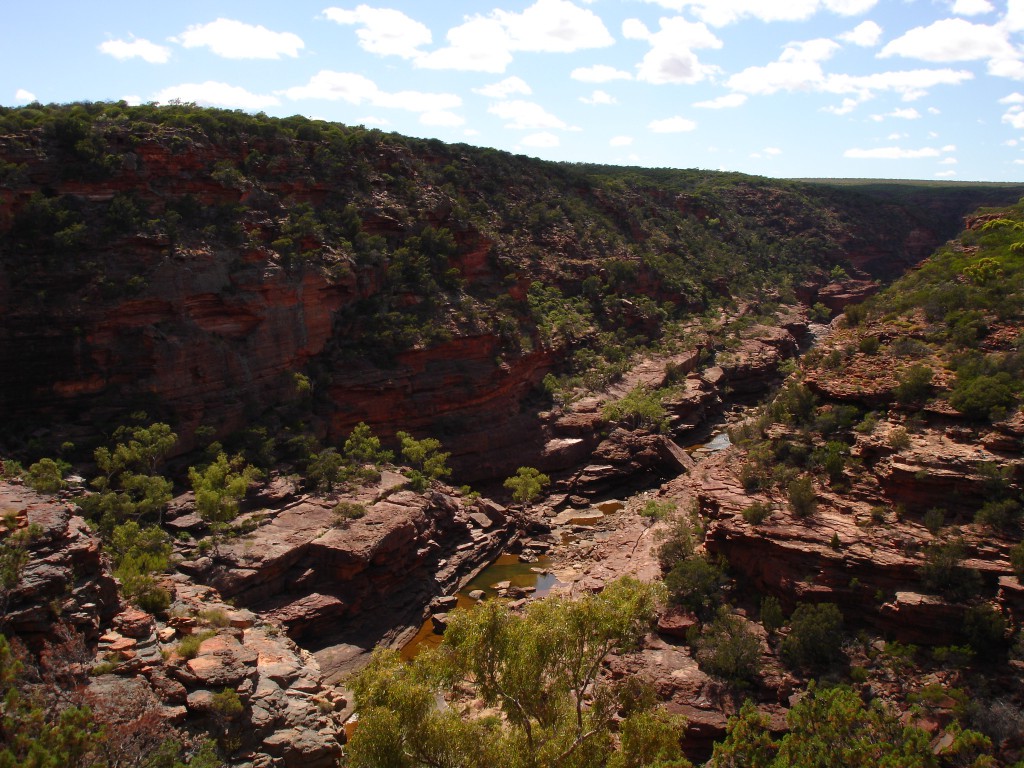 The formations of the scenery of Kalbarri National have been created through millions of years. The thinly bedded red and white banded rocks which can be seen in the gorge are the result of tidal flats. Rippled surfaces are visible in many areas which is due to waves moving over the tidal flats. The sedimentary rock in the gorge and on the coast are called Tumblagooda sandstone. Along the coast strong winds and erosion have formed the steep cliffs which rise more than 100 metres (328 ft) above the ocean.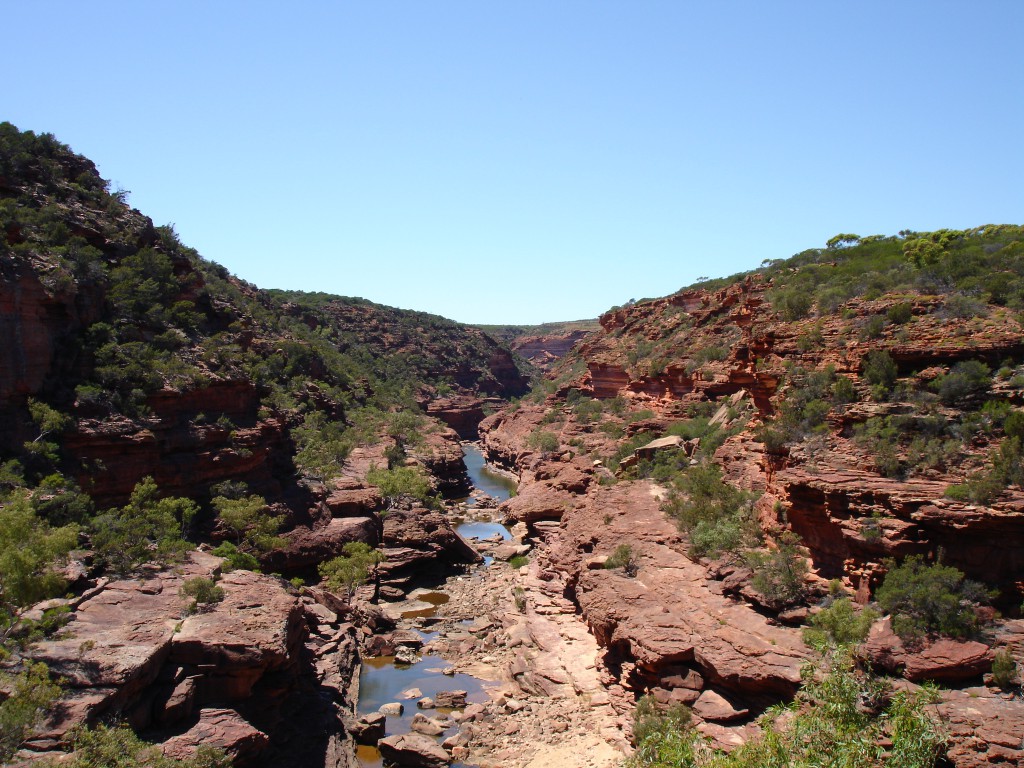 The Aboriginal people known as the Nanda believed that mythological Dreamtime beings formed the landscape that we see today such as the serpent called Beemarra travelling down the Murchison River.
The coastline of Kalbarri has been subject to some shipwrecks in history, one of them being the Batavia which was a ship of the Dutch East India Company built in Amsterdam in 1628. It shipwrecked on its maiden voyage in 1629 after hitting Morning Reef which is a part of the Abrolhos Island group. A mutiny and a massacre took place among the survivors afterwards. The commander Pelsaert left the survivors on the island and went on a small boat to Java to get help which was quite phenomenal. The mutineers were held at bay until the return of Pelsaert. Some were sentenced to death, some were sent back to the Netherlands for sentencing and some were cast ashore in Kalbarri.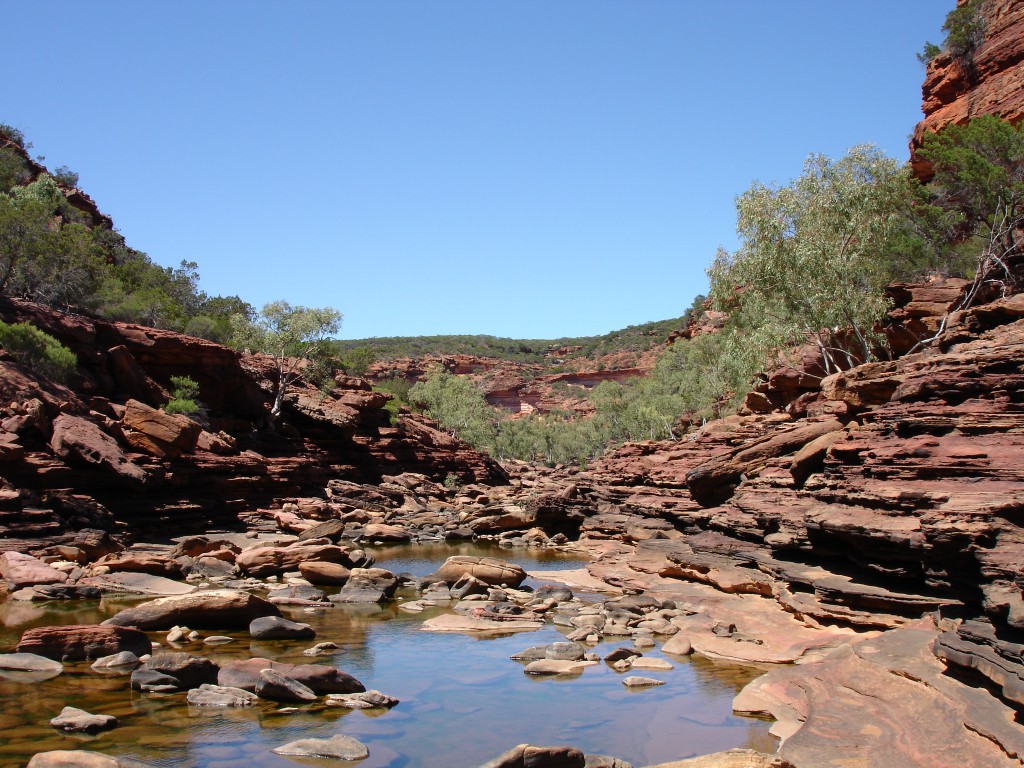 In 1712 another ship of the Dutch East India Company called the Zuytdorp shipwrecked along the high limestone cliffs between Kalbarri and Steep Point. It disappeared after leaving Cape Town on the way to Batavia (present day Jakarta) in Indonesia. It was carrying a cargo of 248,000 newly minted silver coins and 200 passengers. The exact circumstances around the event are uncertain as nobody reached Batavia to tell the tale. Some of the survivors did live at Sharp Bay along with the local Aboriginals, which is north of Kalbarri. This was most likely the first contact the Aboriginals had with Europeans. In 1952 geologist Philip Playford was conducting a geological survey at the cliffs now called Zuytdorp Cliff which is about 65 km north (40 miles) north of Kalbarri. He met up with stockman (a person looking after livestock) Tom Pepper who had told Playford that he had found silver coins and artefacts back in 1927 at a campsite at the top of the cliff. The coins were Dutch and from 1711. It was only coins of that year which went out on two ships and one never got to Batavia. Having established that the coins could only have come from the Zuytdorp, Tom Brady and the Cramer Brothers of Geraldton would be the first to dive at the foot of where Pepper's coins were found. Parts of the ship were found and on a later dive they were amazed to find what they would refer to as "carpets of silver" which was several square metres of silver coins. The Western Australian Museum got involved and they would install a watchman in a caravan at the site to prevent looters turning up. On a day the watchman had to go to town his caravan was firebombed. The museum decided that it was too dangerous to have a watchman on the spot and they had a five year break from the project. In the meantime, "the carpet of silver" disappeared. Yet another mystery of the Zuytdorp. Who looted the ship? You would think it would be the people who burnt the caravan.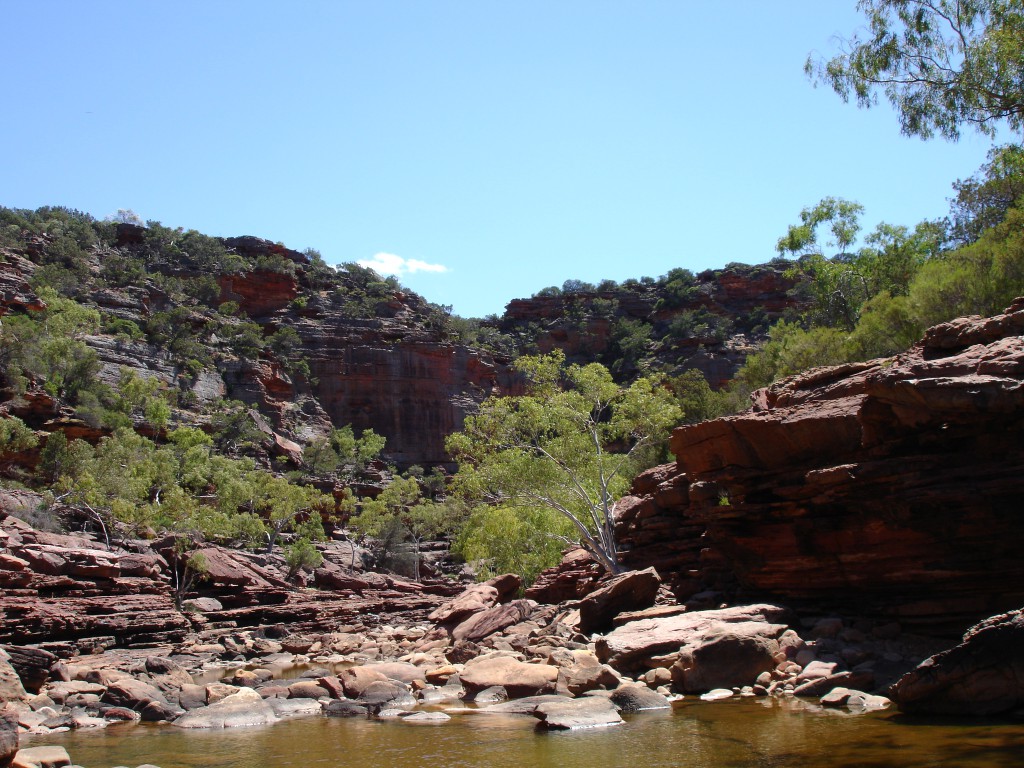 Z-bend is one of the most breathtaking parts of the park. It's about a 1.4 km (0.87 miles) round trip by foot to the lookout point from the car park. The hike is easy and moderate. One of the four lookout points is located at the sharp bend of the Murchison River Gorge.
The Murchison River is the second longest river in Western Australia running about 820 km (510 miles) from the southern edge of the Robinson Ranges to the Indian Ocean in Kalbarri. When arriving at Kalbarri National Park it passes through Murchison River Gorge and bends called Z Bend and The Loop.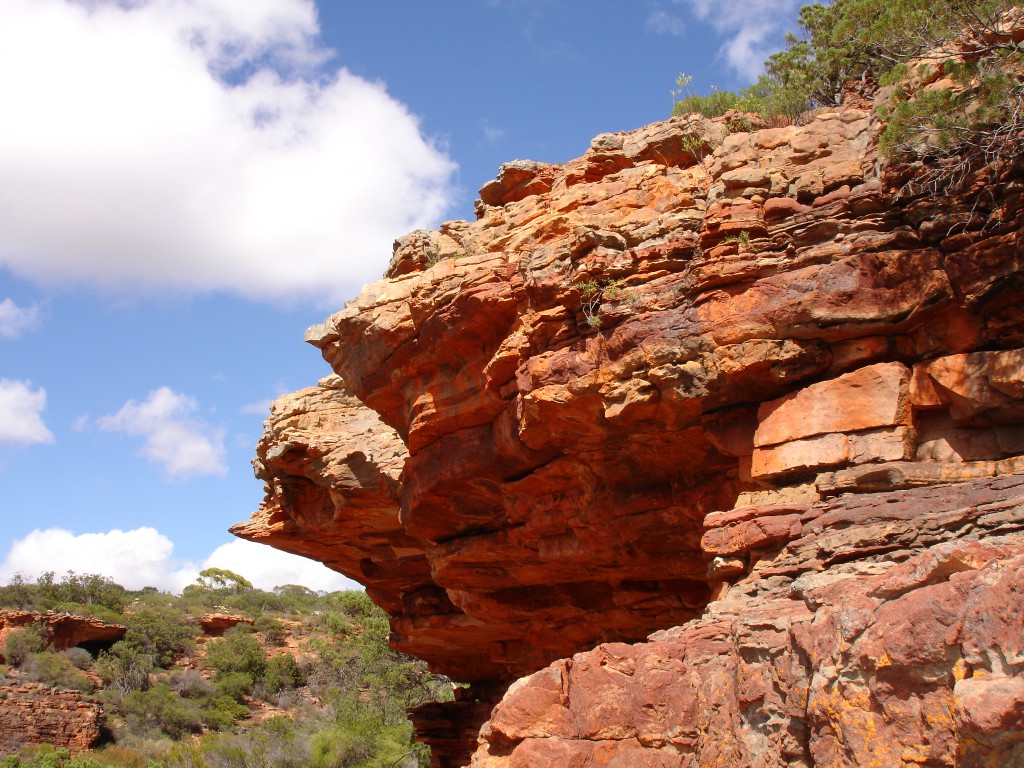 If you're a bit adventurous and want to try abseiling it can be done not too far from the Z-Bend walk. This is great fun. It really depends on whether you are afraid of heights and if you dare to do it. Kalbarri Abseil, which is the company operating the tour, has guides running it who are great fun and really friendly. You will be guided through the whole procedure step by step so you will feel comfortable and safe. If you are a first timer, don't worry, as you will be led through how to proceed. When you are hooked up, you will slide down the canyon wall with your rope and bounce off the wall with your feet all the way down. Great fun and what a rush.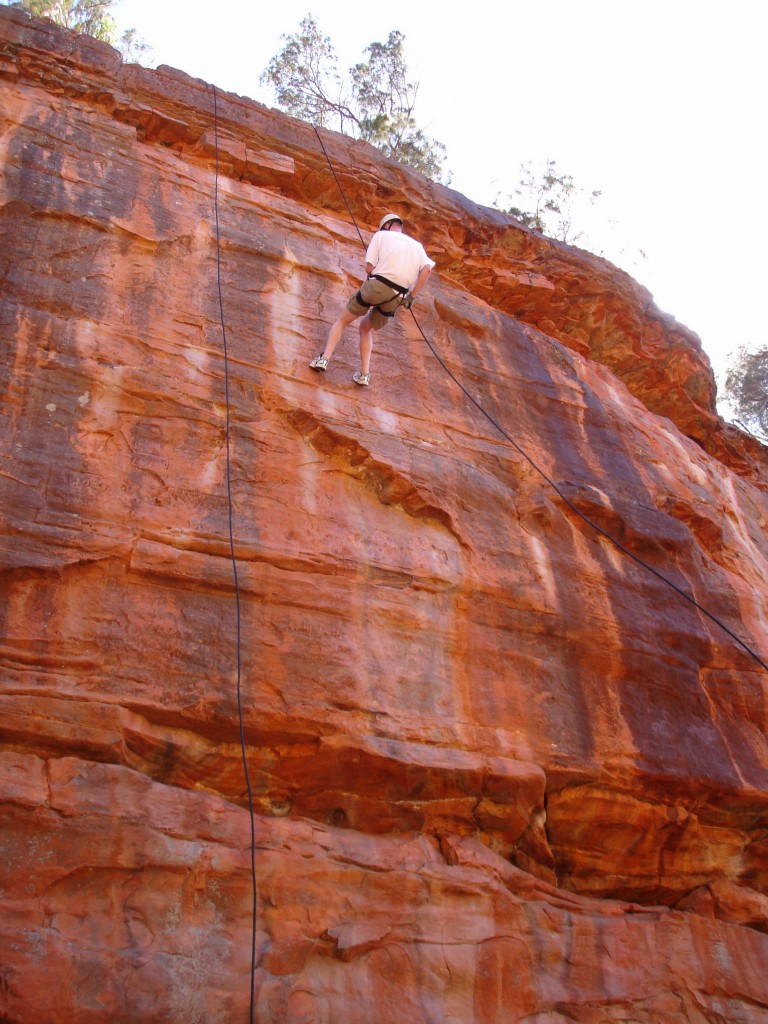 The Loop provides you with different lookouts. One of the main attractions is Nature's Window which is a natural rock arch and an amazing feature. Looking straight through it you will see the Murchison River. This is a great photo opportunity for you and your mates.
Walking along the trails of Kalbarri National Park remember to keep your eyes open and be observant because you may just be lucky to see some wildlife along the track. It could be a short-beaked echidna or even a thorny devil which is a really cool little creature.
The thorny devil is a lizard found in the dry scrubland and deserts in the interior of mid and Western Australia. It grows up to 20 cm (8 inches) and can live up to 20 years. It's covered with spines which act as a defense mechanism against predators to prevent them from eating it. Furthermore it's covered in camouflaged brown and beige colours which will change based on the temperature. When it's hot it will turn pale and when colder it will go a darker tone. It doesn't like the extreme hot or cold, so during the hottest summer months of January and February it is almost completely inactive. It also has a false head on its back, so if it's under attack it will put its real head down between its front legs and then present its false head to the predator. There is evidence to suggest that this actually does happen in the wild as many thorny devils are found with bits missing. They are also able to inflate their chests with air to make them look bigger to scare off predators. The thorny devil eats ants and uses its sticky tongue to capture them. It collects moisture by the condensation of dew on its body at night which forms on the skin. It is channelled to the mouth via moisture-attracting grooves between the spines. During rain this ability to make liquid flow in narrow spaces allows it to drink from all over its body. Another interesting feature of the thorny devil is its funny walk. It's not funny enough to qualify for a certain Monty Python sketch, but it has a kind of an unusual "stutter walk", by walking slowly, stopping often and then rocking back and forth. It appears deliberate and could be another defense mechanism.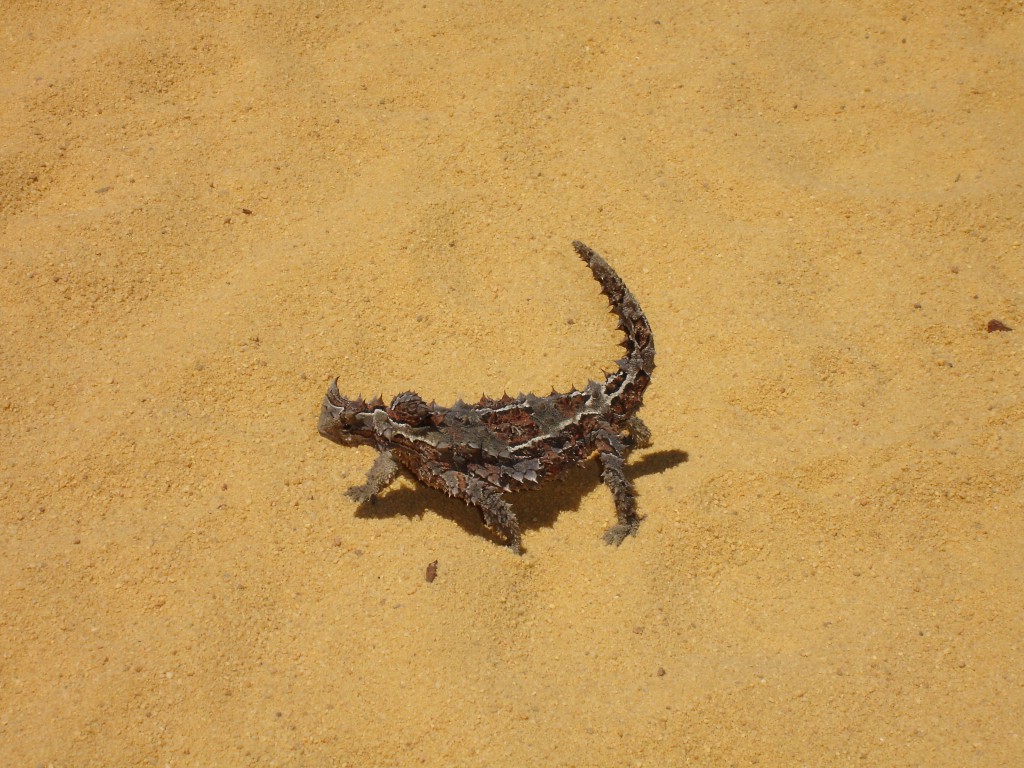 The short-beaked echidna, also known as the spiny anteater is found throughout Australia. It is covered in fur and spines, has a distinctive snout and a very quick tongue which is used to catch prey. Furthermore it has short and powerful limbs with five toes and shovel-like claws which make it able to burrow at great speed. It needs to live underground as it has significant tolerance to high levels of carbon dioxide and low levels of oxygen. The echidna doesn't like the heat as it lacks the ability to sweat so it avoids daytime activities. It can live to be about 16 years old in the wild but usually lives less than 10 years. The only defense mechanism it has got is the ability to curve into a ball and deter predators with its spines.